Starting the study abroad application process gives TnCIS and ChattState's office of Multicultural & International Student Services permission to review your academic and disciplinary records. It is strongly encouraged to apply as early as possible.
---
Step 1
Once you have decided to study abroad, meet with your academic advisor to determine whether you have taken the prerequisite coursework for your selected study abroad program. If you don't have the prerequisite(s) for the course, you will need to select a different program and course.  Your academic advisor can assist you in making the best decision as to which class(es) are in line with your academic goals.
---
Step 2​
Create your TnCIS portal account, click here, be sure to include Chattanooga State on the "Your Institution" line even though the form indicates that the institution's name is optional.
If you already have an account login, start here.
---
Step 3: Complete the TnCIS application process.
A completed TnCIS application consist of the following:
Completed online application
Nonrefundable $100 application fee
Official transcript sent to TnCIS by the ChattState registrar or through the National Student Clearinghouse or Parchment
Online recommendation form completed by a professor (you will manage this through your TnCIS portal)
---
Step 4: Submit your transcript request through the National Student Clearinghouse
Click here to place your order for a transcript through the National Student Clearinghouse. (It may take up to 48 hours for TnCIS to receive an electronic transcript)
Complete all student information
Under "Options" (see image below)

Click "College or University" (verify correct country and state — USA, TN)
Search for Pellissippi State Community College
Under department click TnCIS Study Abroad
Click to send "as is"
To track the status of your transcript, click check status.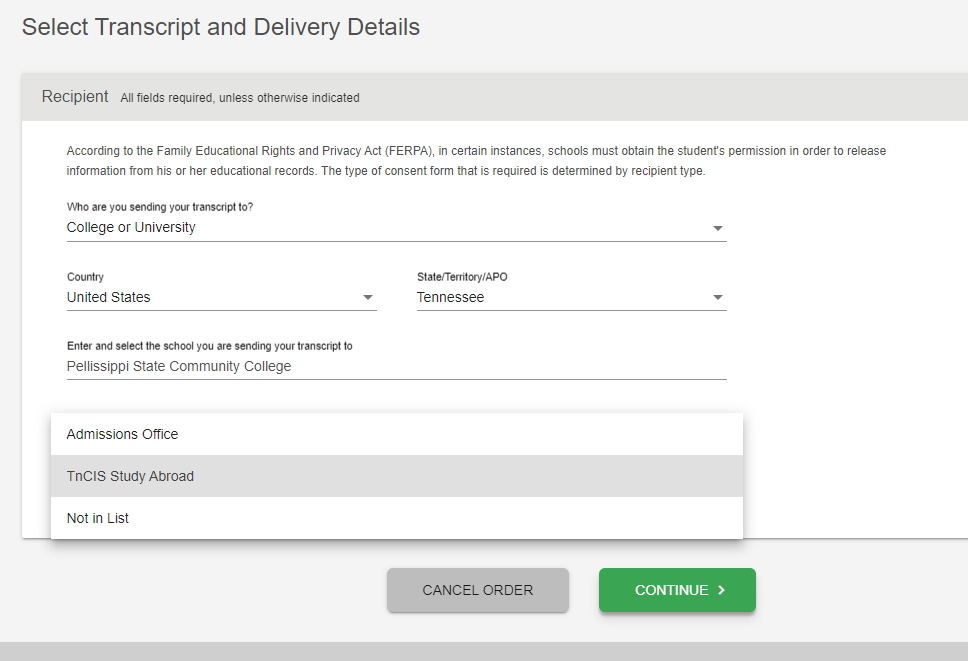 ---
Spring application deadline: November 1, 2023
Summer application deadline: February 1, 2024
If you decide not to participate in study abroad after applying, you must notify TnCIS and ChattState's Office of Multicultural & International Student Services.
Chattanooga State offers grants and partnership grants to assist with study abroad program expenses. These grants are funded through the college and the student international fee. Funding is limited and does not cover the entire study abroad program fee, but our goal is to cover 50% of its cost. Students are encouraged to seek additional funding through financial aid or other personal resources.
Click here to complete the Study Abroad Interest & Grant Application to be considered for the ChattState Study Abroad grant.
 
Additional scholarships may be available through the Chattanooga State Foundation. You will need to complete the Chattanooga State General Scholarship application to be considered for them. Click here for the Chattanooga State General Scholarship application.
​
External Funding: Student Travel Grants: TnCIS is pleased to announce a student travel grant for summer study abroad programs. This is a competitive grant for community college students and is funded through a TBR SERS grant.
Note: If you choose to have a GoFundMe page or solicit funding for your program, it cannot be done using Chattanooga State as the soliciting agent.
Grant Eligibility Requirements
Must be in good standing with academic and disciplinary matters
GPA of 2.0 or better in all college-level coursework
Must be degree-seeking
Successfully complete at least 12 college-level credit hours by the end of the spring term. (Learning Support courses are not college-level courses and cannot satisfy this requirement)
Be at least 18 years of age by the start of the program
Program Fee = your payment for the program (minus your scholarship)
Spring
Spring Application opens – Sunday, October 1, 2023
Spring Application deadline – Wednesday, November 1, 2023
Spring program fee full payment deadline – Wednesday, November 22, 2023
Mandatory orientation - Saturday, January 27, 2024
Summer
Summer Application opens - Sunday, October 1, 2023
Summer Application deadline – Thursday, February 1, 2024
Summer program fee full payment deadline - Wednesday, February 28, 2024
Mandatory orientation – Saturday, April 6, 2024
Passport
Individuals wishing to study abroad will need a valid, unexpired passport. Your emergency contact must also have a valid, unexpired passport in the event that you would need him/her in an emergency situation while you are abroad. Passport information can be found at Travel.State.Gov and TnCIS Passport Information

Visa
Individuals with a current visa status (F-1, M-1, etc.) will need to determine whether a tourist visa is required for entry into the country where they plan to study. This information can typically be found on the web page of the country's embassy/consulate.
For additional information, please refer to the Non-US Citizens section of the TnCIS website.
Deferred Action for Childhood Arrivals (DACA) students, undocumented students, and temporary protected status students should consult with an immigration attorney before considering a study abroad program.

Electronic Travel Authorization
Starting in 2024, the European Travel Information and Authorization System (ETIAS) will require travelers from once  visa-exempt countries, including United States citizens, to apply for a visa to visit much of Europe.
If you are a student with a disability, you are encouraged to discuss-early in the process-your need for accommodations with TnCIS personnel and a specialist in ChattState's Center for Access and Disability Services, or the Office of Multicultural & International Student Services (423-697-3371). All students are expected to fulfill essential course requirements in order to receive a passing grade in their program, with or without reasonable accommodations.