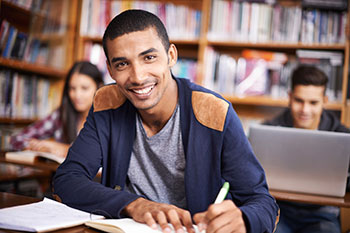 Scholarships are available to students based upon their academic performance, community service, residency and other criteria as defined by the founder or donor of the award. Both the State of Tennessee and the Chattanooga State Foundation provide scholarships for qualified students. In this section you will find comprehensive information regarding scholarship opportunities available at Chattanooga State.
Scholarship Application
Instructions
Login to Scholarship Application
Complete all required fields of the general application
Review your application, including extracurricular activities and reference request, then Finish and Submit
Click on the Opportunities tab to apply to other scholarships
View individual scholarship opportunities to see if you qualify. Click Apply and submit any required information to have your application considered for individual opportunities.
Note:  Recipients will receive an email notification via their Chattanooga State TigerMail account when awarded. Students must accept awards within 30 days or the award will be canceled and re-allocated.
Apply early to receive priority consideration for Chattanooga State scholarships.
The ChSCC Scholarship application is available on November 1st each year for the upcoming academic year.
The priority deadline is March 1st. Students applying prior to this date will receive priority consideration on available scholarships.
Student recruitment and retention are key factors when awarding scholarships. Scholarship funds are limited and are used to support the institution's enrollment goals of attracting high achieving students, students who contribute to the diversity of the student population, and removing financial barriers to support access for qualified students. Current recipients eligible for renewal scholarships are awarded on a first-come, first-serve basis. New potential recipients are awarded based the institution's enrollment goals. In addition, a portion of funds are reserved each year for recent high school graduates and awarded on an equitable distribution among all high schools.

Important Scholarship Information
Applicants are reviewed by a scholarship committee to determine scholarship awards.
Remember to include at least two references. More than two will give you a better chance of being awarded.
Contact your references to ensure they complete a recommendation.
Drafted, incomplete applications are not considered.
Scholarship funds are included in all federal and state laws that limit the amount of financial aid students can receive.
Note:  Students must re-apply each academic year. Students meeting the eligibility to retain a scholarship may receive it up to a maximum of four (full-time) semesters.