Electrical/Electronic Engineering Technology A.A.S.
Electrical/Electronic Engineering Technology A.A.S.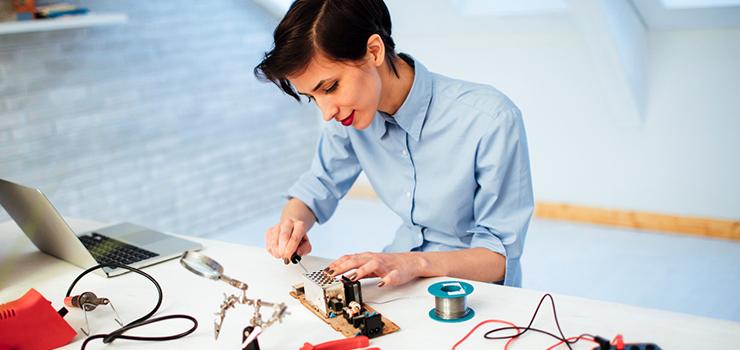 Electronics engineers are needed to design and build electronic equipment. Most electronics engineers work with circuits, switchboards, and other electronic configurations to design and build these devices.
Program Educational Objectives
Graduates will have a strong foundation of scientific and technical knowledge and hands-on experience to be equipped with critical thinking skills, and appreciation for team work, and effective communication skills required for engineering technicians.
Graduates will meet or exceed standards for engineering technicians with technical service firms in local or regional industries or governmental agencies.
Graduates will recognize the importance of professional development, continued learning, service to the local and global communities and will engage in discipline-specific organizations that foster these opportunities.
Enrollment/Graduation Data
Graduates Spring 2017: 15
Enrollment Fall 2016: 89
| | | |
| --- | --- | --- |
| Advisory Committee Member | Organization | Title |
| Tony Bartly | McKee | Corporate Electrical Engineering Manager, P.E. |
| Tom Snow | TJ Snow | Owner |
| David Stocks | EPB | EPB Key Customer Engineer, PE, CEM |
| Jerry Tyman | Automation IG | General Manager |
| Russell Looper | MRO Inc | Co-Founder |
Student Outcomes
a. An ability to apply the knowledge, techniques, skills, and modern tools of the discipline to narrowly defined engineering technology activities.
b. An ability to apply a knowledge of mathematics, science, engineering, and technology to engineering technology problems that require limited application of principles but extensive practical knowledge.
c. An ability to conduct standard tests and measurements, and to conduct, analyze, and interpret experiments.
d. An ability to function effectively as a member of a technical team.
e. An ability to identify, analyze, and solve narrowly defined engineering technology problems.
f. An ability to apply written, oral, and graphical communication in both technical and non-technical environments; and an ability to identify and use appropriate technical literature.
g. An understanding of the need for and an ability to engage in self-directed continuing professional development.
h. An understanding of and a commitment to address professional and ethical responsibilities, including a respect for diversity.
i. A commitment to quality, timeliness, and continuous improvement.
j. An understanding of the application of circuit analysis and design, computer programming, associated software, analog and digital electronics, and microcomputers to the building, testing, operation, and maintenance of electrical/electronic(s) systems.
k. An understanding of the application of circuit analysis and design, computer programming, associated software, analog and digital electronics, and microcomputers to the building, testing, operation, and maintenance of electrical/electronic(s) systems