Collegiate High is a partnership between the Hamilton County Department of Education and Chattanooga State. Collegiate High serves as a launching pad for students in grades 9-12 to be "ahead of the game" and expedite their education.
The Collegiate High Experience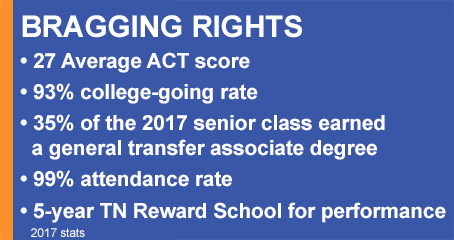 Collegiate High offers students the opportunity to earn a high school diploma and an associate's degree. Even if students haven't earned an associate's degree by high school graduation, students have earned college credit hours toward a college major of their choice. The Collegiate High supports student achievement by providing students with the knowledge and skills necessary for postsecondary success.
Nationally, Collegiate High students are some of the most sought-after students. Our graduates continue their education in colleges and universities across the nation. Ninety percent of Collegiate High graduates transfer to a four-year college or university. Additionally, our ACT composite continues to rank above the state and national average.
Am I Eligible?
An ACT composite score of 19 or better is required for admission to the Chattanooga State Collegiate High program.
Reward schools are the top 5 percent of Tennessee schools for performance and the top 5 percent of Tennessee schools for progress as measured by a one-year success rate or growth measured by a one-year TVAAS school composite.
Jake Brown, a Collegiate High student, talks about how top colleges look for students that challenge themselves, and why he chose Collegiate High.
Attend High School at Chattanooga State!
Students at Collegiate High have full access to the Chattanooga State campus, including clubs, organizations, intramural sports, and student government. Also, band students have an opportunity to participate in the UTC marching band program.
Still Not Convinced? Here Are More Advantages
Earn high school and college credit simultaneously
Earn an Associate Degree while completing a high school diploma
Engineering/Technology program available
Schedule flexibility
Availability of college support services including mentoring, counseling, learning tutoring clubs
Accessibility to state-of-the art computer labs
Small teacher/student ratio
Explore a variety of careers and opportunities
Enjoy learning on a college campus