New Electric Vehicle Engineering Technology AAS Degree Launches in the Fall
July 13, 2023 | Chris Lykins | Press Release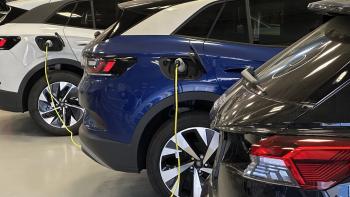 On July 11, 2023, the Tennessee Higher Education Commission approved Chattanooga State Community College's request to launch a new Electric Vehicle Engineering Technology (EVET) Associate of Applied Science (AAS) degree. The new EVET degree will prepare students with the education and skills needed to meet industry workforce demands to manufacture, diagnose, service, and repair electric vehicles. 
The AAS Electric Vehicle Engineering Technology degree will be initially offered through the Volkswagen Electric Vehicle apprenticeship and is expected to expand to the main campus by 2025.  "We are excited to see this new program become a reality and to welcome its first students to our Volkswagen Academy campus this Fall," stated Steffi Wegener, Assistant Manager of Training & Development, Volkswagen Group of America, Chattanooga Operations. "This is yet another milestone in our longstanding partnership with Chattanooga State Community College."  
Rebecca Ashford, President of ChattState, stated about the program, "This new Electrical Vehicle Engineering AAS degree is the first of its kind in the state. Through it, students will learn valuable skills related to manufacturing and maintaining electric vehicles, and those skills will lead to prosperous careers in the fast-growing world of EVs. I am so proud of Chattanooga State's partnership with VW that led to the creation of this new program." 
Volkswagen is currently accepting applications for the new Electric Vehicle Apprenticeship that starts August 9.  The Electric Vehicle Expert will complete a two-year apprenticeship program that combines electrical training, programming, electronics, computer and controls systems into a design useful for diagnostic and repair of the electric vehicle. This development program is a partnership between Volkswagen Group of America and Chattanooga State Community College. 
The apprenticeship program runs 3 semesters throughout the year. Students will go through a total of 6 semesters, including academic and on-the-job training semesters. 
Students are enrolled in Chattanooga State Community College during the apprenticeship program and will receive an Electric Vehicle Engineering Technology Associate of Applied Science Degree upon completion. 
Academic semesters consist of classes in the Volkswagen Academy, which are taught by Volkswagen and Chattanooga State instructors. On-the-job training semesters take the apprentices into the plant where they work in various areas, focused on electric vehicle technology to apply theories and skills in a diagnostic setting and gather work experiences. 
The apprenticeship is paid after an 8-month probation period. 
The schedule for academic semesters is from Monday to Friday, 8 hours a day. The schedule for on-the-job training may vary by department. 
Learn more about the Electric Vehicle Apprenticeship and all of VW Academy Opportunities.
For more information about Chattanooga State's Electric Vehicle Engineering Technology AAS degree, contact ChattState Engineering and Information Technologies at 423-697-4434 or engineering@chattanoogastate.edu.