For transfer student from Chatt State, coming to UTC "was magical for me"
April 20, 2023 | Other | In the News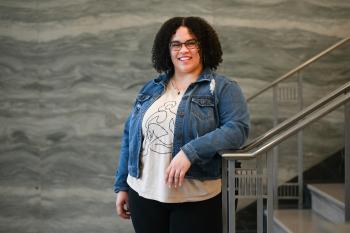 Did you know for the academic school year 2021–2022, 33% of ChattState and the Tennessee College for Applied Technology (TCAT) graduates transferred to 4-year universities? Of that group, 13% transferred to UTC. 
Discover how Destini Givens, a ChattState graduate, tackled life's challenges head-on by seizing the opportunity to study for free with the Tennessee Promise Scholarship at ChattState. She earned an associate degree in psychology from ChattState and is now thriving at the University of Tennessee at Chattanooga (UTC). Mastering the balance between a full-time job and student life, Destini is on track to graduate in 2024 with a degree in psychology and a minor in child and family studies.
With the ChattState UTC Connect Program, we are excited to offer a dual admission program for transfer students. This is your track for making a smooth transition from ChattState to UTC upon earning an associate degree.
Go, Destini, your future is bright!
Read More of Destini's story below at UTC News: