SkillsUSA Students Awarded 31 Medals
April 9, 2018 | Betty Proctor | Internal Press Release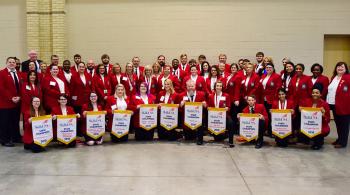 Students enrolled in programs through the Tennessee College of Applied Technology (TCAT) at ChattState were recognized for their exceptional knowledge and skill during the 2018 Tennessee postsecondary SkillsUSA competition held recently on the campus of Chattanooga State Community College.
During the two-day competition held March 19-20, 55 TCAT students competed in 38 contests, earning 15 gold, 12 silver and four bronze medals. Overall, ChattState students medaled in 31 of 38 contests and 48 of 55 students took home a medal for their efforts at the awards ceremony held March 21. The gold medal winners and their advisor(s) will travel to Louisville, KY for the SkillsUSA National Leadership and Skills Conference the third week in June. TCAT lead advisors included Michael Mercer and Elonia James.
In addition to the individual medal winners, Industrial Electricity student Kevin Moton, finished third in the Outstanding Student of the Year (OSY) competition. To prepare Kevin for his interview and speech, Hannah Hardy, TCAT Student Services, and Stephanie Hollis, Career Services, worked with Kevin throughout the regional and state competition.
For the eighth time in twelve years, TCAT Chattanooga received the James D. King award for accumulating the highest number of points among the TCAT's that have an enrollment greater than 500 students. "It was, to say the least, an exciting and rewarding week for our students and advisors," stated TCAT Executive Vice President Dr. Jim Barrott.
Gold Medalists:
Breanna Britton, Jacob Spencer, Ki'isha Fountain, Makenna Meeks, Michaela Rogers, Starlette Marshall, Damaris Betancourt, Elizabeth Crawford, Cara Winget, Chantal Simmons, Brittany Durham, Charlotte Adams, Rex Meeks, Mike Hyder, Kassey O'Kelley, Jacob Watts, Joseph Groves, Hamilton Co.; Kenneth Ward, Rebekah Farrow, Catoosa Co., GA; Caitlin White, Alli Johnson, Brittany Smith, Isaiah Dagnan, Marion Co.; Taylor Gray, Sequatchie Co.; Kevin Brown, Whitfield Co., GA.
Silver Medalists:
Matthew Morrison, Elizabeth McDaniel, Sequatchie Co.; Coby McHone, Nhan Dinh, Heather McFarlin, Christa Spain, Ana Braxton, Tamika Colvin, Kelly Ray, Hamilton Co.; Lillian Wohlfeil, Nicholas Fuson, Rhea Co.; Alexander Brockus, Jackson Co., AL; Cody Ellison, Cumberland Co.; Melea Howser, Bledsoe Co.; Patrick Bachelor, Bradley Co.; Courtney McKinney, Walker Co., GA: Katie Rector, Tyrone Preston, Nicholas Sartin, Marion Co.
Bronze Medalists:
Lance Myers, Sequatchie Co.; Kevin Moton, Hamilton Co.; Brittany Smith, Marion Co.;  and Darrel Byrum, Bradley Co.
TCAT faculty advising this year's winners included Quinn Francis, Michael Muhammad, Sam O'Rear, Tammy Irvin, Rebecca Stewart, Elonia James, Diane Jackson, Amy Pedigo, Mike Mercer, Renee Johnson, Ed Grun, Jimmy Jones, Jill Wentworth, Joseph Hutchings, Russell Uselton, Jon Morrison, Sandra Lambertino, Cindy Rutledge, Houston Graham, Klye Lee, David Burgess and Scotty Holland.
For more information on TCAT programs, visit https://www.chattanoogastate.edu/tcat or call 423.697.4433.