#MyHinman Award Presented to Chattanooga State
July 9, 2019 | | Internal Press Release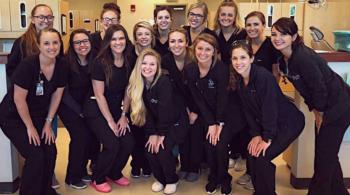 The dental hygiene class at Chattanooga State Community College recently concluded a stellar spring semester just prior to graduation. In addition to placing first in the #MyHinman scholarship contest, program director Angie Maida reported that 100 % of the graduates passed clinical and computerized national board exams ensuring they are licensed and ready to work. This is the third year in a row that Chattanooga State dental hygiene graduates have passed both critical examinations on the first attempt at 100%.
The #MyHinman campaign kicked off in September of 2018. Participants were asked to use the official hashtag - #MyHinman – on Facebook, Instagram, or Twitter to help raise money for scholarships and be entered into monthly drawing for $100 cash. Hinman and its official housing company, EventSphere, donated to the scholarship bank each time a post was shared on social media with the #MyHinman hashtag.
As Hinman's first place $1,500 winner, members of the Chattanooga State Student American Dental Hygienists' Association (SADHA) opted to share the winnings among the entire class. "The money will be used to offset some of the class' financial burden for their clinical boards plus fund scholarships for current dental hygiene students," shared dental hygiene instructor Melissa Boyd proudly. Members donated $500 to fund that scholarship at Chattanooga State.
In addition, Hinman Dental Society named Olivia Wright as a 2019 scholarship recipient and awarded her a $1,000 scholarship. At Chattanooga State, Olivia also received the Nursing and Allied Health division award for excellence during the Hats Off to Excellence, an annual event celebrating student success.
To learn more about Chattanooga State's outstanding the Dental Hygiene program, prospective students are encouraged to attend a free information session on Thursday, August 8 at 11 a.m. Call (423) 697-4450 or visit the website at https://www.chattanoogastate.edu/dental-hygiene.