Chattanooga State Announces 2022 Commencement Plans
May 2, 2022 | Betty A. Proctor | Internal Press Release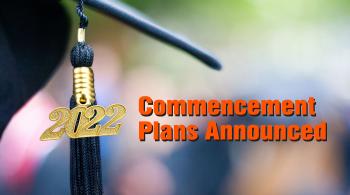 May 2, 2022 (Chattanooga, TN) --- Commencement ceremonies for the Class of 2022 will be held May 6 in the Health & Physical Fitness Building (Gym) on the main campus of Chattanooga State Community College, 4501 Amnicola Highway, Chattanooga, 37406.
"We will have ceremonies at 10 a.m., 2 p.m., 4 p.m. and 6 p.m.," stated Dr. Amanda Bennett, interim vice president for Student Affairs. "These ceremonies will encompass all academic divisions, Collegiate High School and University Parallel graduates." Students each received six tickets for guests. For those unable to attend, ceremonies will be livestreamed here: https://www.youtube.com/playlist?list=PLvNzIVY9MkFwAxN6QbPP1dZ2Al-vbfA-L
Chattanooga State's academic divisions include Business, Engineering and Information Technologies, Humanities and Fine Arts, Mathematics and Sciences, Nursing and Allied Health, and Social and Behavioral Sciences, in addition to Collegiate High and University Parallel graduates.
"We are excited to host our graduates on our campus this year, and there is much to celebrate," shared Dr. Bennett. "Our graduates and their accomplishments exemplify our purpose of empowering everyone in our community to learn without limits."
The Class of 2022 is composed of 1,221 graduate candidates. Sixty-seven percent are female while 33% are males, and 339 grads, or 28%, have become the first member of their family to attend college. The largest percentage of graduates are over 25 years of age at 50%, while 45% more are within the ages of 18 and 20. Almost a third of the graduates are TN Promise recipients. Chattanooga State's oldest graduate candidate is age 71, while the youngest is 17.
The following countries represented in the graduating Class of 2022 include Australia, Brazil, Cuba, Ecuador, Germany, Guatemala, Haiti, India, Mexico, Panama, Philippines, Senegal South Africa, Sudan, Ukraine and Vietnam.
More information about Chattanooga State's 2022 Commencement exercises can be found here: https://www.chattanoogastate.edu/student-support/information/graduation-information