91% of ChattState Students Earn Medals at Statewide SkillsUSA Competition
April 7, 2019 | | Internal Press Release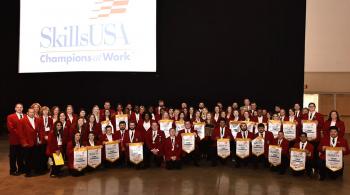 Students enrolled in programs through the Tennessee College of Applied Technology (TCAT) at ChattState were recognized for their exceptional knowledge and skill during the 2019 Tennessee postsecondary SkillsUSA competition held recently on the campus of Chattanooga State Community College and additional locations in the surrounding Chattanooga area.
During the two-day competition this week 53 TCAT students competed in 40 contests, earning 23 gold, five silver and six bronze medals. Overall, 85 percent of TCAT students earned a medal in 34 of 40 contests, and 48 of the 53 students who competed, an astounding 91 percent, took home a medal for their efforts.
The gold medal winners and their advisor(s) will travel to Louisville, KY for the SkillsUSA National Leadership and Skills Conference during the third week of June. Dedicated TCAT faculty and staff helped to make the 2019 event a great success along with lead advisors Mike Mercer and Elonia James. Announcements concerning national medal winners will be released upon returning from Louisville.
For the ninth time in twelve years, TCAT Chattanooga received the James D. King award for accumulating the highest number of points among the TCAT's that have an enrollment greater than 500 students. "It was, to say the least, an exciting and rewarding week for our students and advisors," stated TCAT Executive Vice President Dr. Jim Barrott.
Gold Medalists:
Andrew Hale, Jasper; Caitlin White, Whitwell; Kimberly Driscoll, East Ridge; Diamone Fitten, Chattanooga; Cherylmaine Stanley, Chattanooga; Mitchell Simmons, Jasper; Sam Swenson, Hixson; Brandon Tallent, Signal Mountain; Abby Pollock, Marietta, GA; Cheyenne Hixson, Dayton; Jennifer Hicks, Ooltewah; Reilly Jordan, Signal Mountain; Racquel Harrison, Chattanooga; Breanna Allen, Sequatchie; Carlea Defur, Whitwell; Christa Spain, Chattanooga; Madison Tallent, Rossville, GA; Jesse Brito, Ooltewah; Jean Davis, Hixson; Amy Griffith, Soddy-Daisy;Shelynn Curry, Chattanooga; Melissa Carrillo-Hernandez, Chattanooga; Mason Overbey,Chattanooga;  Savannah Davis, Chattanooga; Carly Steinbacher, Apison; Tim Canarela, Ringgold, GA; Noah Peyton, Hixson; Laquinta Gonzalez, Chattanooga; Kyle Willard, Chattanooga; Lydia Reed, Trenton, GA; Hope LaFerry, Ringgold, GA; Mady Lewis, Soddy-Daisy;Marissa Roberson, Chattanooga; Danny Payton, Hixson; Nick Sartin, Whitwell; Austin Yarborough, Whiteside.
Silver Medalists:
Joshua Tarvin, Chattanooga; Justin Hicks, Bryant, AL; Brenna Shaw, Hixson; McKennah Duncan, Hixson; Jessica Antone, Apison; Yesha Patel, Chattanooga.
Bronze Medalists:
Anthony Jones, Ooltewah; Mike Walker, Soddy-Daisy; Jilliann Davis, Harrison; Adam Slatton, Chattanooga; Matthew McGarvey, Hixson; Isabella Wooten, Chattanooga; Baylee Vincent, Evensville; Lance Myers, Cleveland.
TCAT faculty advising this year's winners included Quinn Francis, Erin Martin, Sam O'Rear, Rebecca Stewart, Elonia James, Diane Jackson, Mike Mercer, Renee Johnson, Ed Grun, Jimmy Jones, Jewell Kyle, Nancy Draper, Sandra Lambertino, Cindy Rutledge, Kyle Lee, Linda Tolliver, Tiffany Hammond, Steve Bessler, Rex Weeks, David Burgess and Scotty Holland.
For more information on TCAT programs, visit https://www.chattanoogastate.edu/tcat or call 423.697.4433.