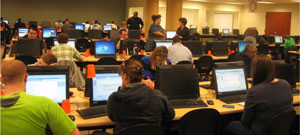 Located on the second floor of the Instructional Materials Center in IMC-225, the center is open days, nights, and weekends to help students with all levels of Math. The center is equipped with over 180 computers for student use, and Math faculty and tutors are always available to assist students​.
If you need any help with scheduling an online tutoring session, or with making sure your laptop is ready for an online tutoring session, come by the Math Center and we will help you out. If you have any problems or need to cancel an upcoming appointment, email: Roland Howell: roland.howell@chattanoogastate.edu or Angelina Blevins: angelina.blevins@chattanoogastate.edu.
---
Hours:
Monday - Thursday (9:30am - 10:00pm)
Friday (9:30am - 5:30pm)
Saturday (12:00pm - 6:00pm)
---
Note: This is an Online Tutoring Service:
This is not a face-to-face, in-person session. The student can join the session from home or anywhere else they have internet access.
Student must have access to audio (either through a phone or mic/headset) and optionally a webcam.
To minimize disruptions, the student should be in a quiet location during the session.
Rules:
This service is for Chattanooga State students only. You may be asked to provide an ID, so ensure you have your ID ready.
The time limit for a session is one hour.
No help will be provided on quizzes, tests, or course projects.
Tutor reserves the right to end session if student is disruptive or academic integrity issues exists. (Online sessions may be recorded.)
Missing multiple sessions may restrict your ability to make appointments. If you have to cancel, please let us know as early as possible.
To Sign Up:
If you need on-demand tutoring, or help with scheduling an appointment, or need technical help, visit the Math Center Virtual Office.
To schedule an online appointment, go to TutorTrac Login and follow the instructions below.
Log in using your user name and password for tiger web/eLearn

Click on Search Availability on the left side of the screen (under Student Options).

The following options are selected in drop down menus.

1) First select Center (Math Center)
2) Select Section (the course you need help with)
3) Select Reason (either Online or Peer tutoring)
 

To see all available appointment times, just click 'Search'.

Click on the green box with the date, time, and tutor you would like.

A box will pop up with more options.

1) Enter any notes you would like the tutor to know ahead of time.
2) Appointment Duration (drop down menu) can be set to 30 or 60 minutes.
3) Click Save.
 

Once you have saved your information, you and the tutor will receive an email stating the date and time of your tutoring session. This email will go to your Chattanooga State email account. This is NOT your eLearn email. This is the email you access through TigerWeb. If you need help accessing your TigerWeb email, please use the Tiger Tutorial Video. You can also see any upcoming appointments listed on the TutorTrac main menu.