Global Scholars (Honors Program)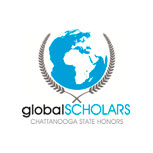 The Global Scholars Program is Chattanooga State's Academic Honors Program. Its purpose is to give students the opportunity to gain a world perspective and awareness through a deeper and more connected, contextualized college experience. The honors faculty at Chattanooga State strive to unlock students' personal strengths so they can leverage these strengths with their desire to make a difference in the world.
As Chattanooga State Global Scholars, students prepare to transfer to top-tier universities and/or enter the highly competitive job market. Class sizes are small, which allows for in-depth discussion with professors and other honors students who share a passion for learning. With the opportunity to study abroad, GSP encourages students not only to explore the world, but to understand their place in it.
Some Global Scholars receive a full scholarship, which covers all tuition, fees, and includes a book stipend. If you are interested in a GSP Scholarship, please complete the Chattanooga State Scholarship Application. (Note: You must first be enrolled at Chattanooga State before applying for scholarships.)
---
If you want to be a Global Scholar at Chattanooga State, complete the Global Scholar application and take the first step toward challenging yourself and changing the world.
---
Program Requirements
The Global Scholars Program is open to students who meet at least one of the following minimum criteria:
ACT composite score of 25*
SAT score of 1130
High school GPA of 3.50*
GPA of 3.50 or higher based on a minimum of 12 hours of college level courses
*Candidates must meet all college-readiness benchmarks in math, reading, and writing.
Students must maintain a minimum cumulative college GPA of 3.25 to maintain good standing in the Global Scholars Program. This requirement will be based solely on grades earned at Chattanooga State, will apply to all students admitted to the program, and cannot be waived.
In order to graduate with recognition as a Global Scholar, students must be continuously enrolled for at least 12 credit hours each term and must also accumulate 15 honors credit hours. All Global Scholars must take the Presidential Capstone Seminar as part of their degree program, preferably the last term before graduation.
Upon written recommendation of a dean, a student may be admitted into the GSP, notwithstanding the testing/GPA requirements above. International and out-of-state students may be eligible for in-state tuition.
All inquiries for the GSP should be directed to:
Amanda Bennett
Honors Specialist
amanda.bennett@chattanoogastate.edu
423-697-2577