Nuclear Medicine Technology Certificate
Deadline Dates
Program - *March 1 of Each Year (weekend following Monday)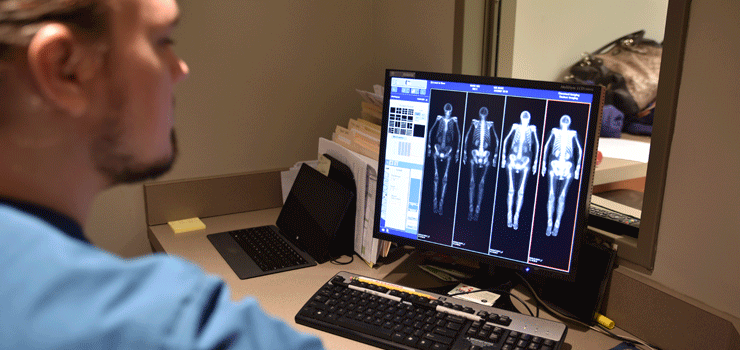 The Nuclear Medicine Technology Program is an accredited fully distance education program. This is accomplished through online learning, practical clinical education at an approved affiliate, and attending available laboratory classes approximately once per month on the Amnicola campus.
Nuclear Medicine Technologists are members of the diagnostic imaging health care team. The technologists actively participate in the performance of diagnostic imaging procedures which analyze both the anatomy and physiology of the human body. Nuclear Medicine imaging procedures are performed through the administration of a radioactive pharmaceutical which is then analyzed with gamma cameras. In addition, Nuclear Medicine Technologists use radioactive drugs for therapeutic procedures involving certain diseases.
The Nuclear Medicine Technology program provides specialty education for radiologic technologists, medical technologists, cardiovascular technologists, diagnostic medical sonographers, nurses, respiratory therapists, and those in other fields that have a national certification in a patient care health related field with a minimum of an associate degree. Persons with bachelor's degrees and significant patient care experience, may also be eligible. The program also provides preparation for the ARRT and/or NMTCB certification exams in nuclear medicine technology. This 12 month program begins each fall semester. Classes are conducted every week through distance education. Travel to campus is limited to laboratory sessions approximately once every six weeks. Clinical experience is obtained at affiliated clinical sites. A grade of 75% or better is required in each course. Full-time status is required.
Programmatic information sessions are mandatory each application year even if you have attended in a previous year. Information sessions are held throughout the year. An online information session is available.
Applicants who have worked as nuclear medicine technologists for a minimum of two years may qualify for the Non-Traditional program. Contact the program director for more information.
Accreditation
Joint Review Committee on Education Programs in Nuclear Medicine Technology
820 W. Danforth Rd., #B1
Edmond, OK 73003
(405) 285-0546, FAX (405) 285-0579

Mission
Deliver high-quality educational programs and services that provide knowledge,  skills, cultural awareness and attitudes needed to experience prosperous and  rewarding lives.
Contribute to the economic well-being of the regions served through workforce development and partnerships with business industry.
Prepare graduates who will be employed in jobs related to their educational preparation.
Prepare competent workers to meet the needs of employers.
Program Outcomes
Graduate outcomes are indicators of program effectiveness, demonstrating the extent to which a program achieves its goals.  Programmatic graduate outcomes data reported on the JRCNMT website include: 5-year time period of current report; graduation rate; ARRT credentialing success; NMTCB credentialing success and job placement rate. Graduation Outcomes Report
Employment Opportunities:
Employment opportunities are diversified. An individual may work as a staff or supervisory technologist in a hospital, outpatient imaging center, laboratory or research facility. There are also career opportunities in education, sales, and marketing of nuclear medicine supplies and equipment.
Job Expectations:
Technical Standards
Salary:
$37,940 - $79,630 in the Southeast Region
Ability to move wheelchairs, stretchers, etc., alone or with assistance as available to lift support and/or transfer a patient.
Ability to visualize patient for identification, positioning, camera placement and alignment and image analysis. Ability to move the body and body regions in order to provide patient care and support and to position patient for imaging and/or treatment.
Ability to reach, position, and operate imaging tables, camera control panels, collimators, dose calibrators, etc., at standard locations and placements.
Ability to safely administer radiopharmaceuticals and appropriately handle vials, syringes, sterile items, pharmaceuticals, catheters, IVs, etc.
Ability to read written passages, to communicate orally and to write. Ability to hear or lip read for reception of spoken communication.
Ability and stamina to withstand lengthy periods of physical activity including moving quickly and continuously.
Ability to perceive events realistically, to think clearly and rationally and to function independently in routine, stress and/or emergency situations.
Program Cost
| First Semester (14 hours) (fall) | In-state | *Out-of-state |
| --- | --- | --- |
| Maintenance Fee | 2455.50 | 3603.50 |
| Truescreen: my Record Tracker Fee: | 17.50 | 17.50 |
| Upload documentation for: | | |
| Physical Exam and Required Tests (estimate) | 150.00 | 150.00 |
| Hepatitis B (estimate) | 175.00 | 175.00 |
| Student Liability Insurance | 11.05 | 11.05 |
| Radiation Badges (estimate) | 75.00 | 75.00 |
| CPR Certification Course | 45.00 | 45.00 |
| Truescreen Criminal Background Check | 24.50 | 24.50 |
| Truescreen Drug Screen (10 panel) | 31.00 | 31.00 |
| Textbooks and Supply Costs (estimate) | 500.00 | 500.00 |
| Lab Coat | 30.00 | 30.00 |
| Trajecsys | 100.00 | 100.00 |
| Subtotal | 3614.55 | 4762.55 |
| Second Semester (13 hours) (spring) | In-state | *Out-of-state eRate |
| --- | --- | --- |
| Maintenance Fee | 2291.50 | 3357.50 |
| Subtotal | 2291.50 | 3357.50 |
| Third Semester (12 hours) (summer) | In-state | *Out-of-state eRate |
| --- | --- | --- |
| Maintenance Fee | 2127.50 | 3111.50 |
| Textbooks (estimate) | 100.00 | 100.00 |
| ARRT | 200.00 | 200.00 |
| NMTCB | 175.00 | 175.00 |
| Passport Photo for ARRT(N) Application | 15.00 | 15.00 |
| Subtotal | 2617.50 | 3601.50 |
| Total | 8523.55 | 11721.55 |
* Out of state maintenance total is calculated from the eRate Fee Table.
Costs Disclaimer
These are estimated program costs. Actual costs may vary due to changes in tuition and/or fee increases as determined by the Tennessee Board of Regents.
Note: College fees are included in the maintenance cost. To view current calculation table, go to Bursar's Office on Chattanooga State website. This website will also give you information on refund policies, fee payments and the refund calendar.
This list does not include expenses for lodging and other expenses incurred during class scheduled times. Students are responsible for the cost of uniforms/lab coats for clinic.