Two Students Named Outstanding Technical Student of the Year
January 2, 2018 | Betty Proctor | Internal Press Release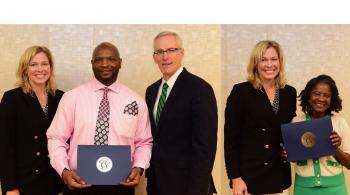 Chattanooga State Community College has named two winners for the Outstanding Technical Student of the Year (OTSY). Kevin Moton was named the OTSY by the College's Tennessee College of Applied Technology (TCAT) Division and Ianthe Bryant was named the Outstanding Technical Student of the Year for Chattanooga State.
While TCAT has had an OTSY competition for several years, this year's competition marks the inaugural competition for degree-seeking students at Chattanooga State. The announcement was made by the college President Dr. Rebecca Ashford and the Executive VP Dr. Jim Barrott. Moton and Bryant will both graduate in May 2018.
Each year instructors select exceptional students that show leadership, great performance, and service in their classes to compete for this award. Furthermore, the students will then compete in the OTSY Regional Competition taking place in January in Knoxville.
Moton, a native of Chattanooga, Tennessee, attended Howard High School and is currently an Industrial Electricity Program student at Chattanooga State. He has been interested in computers and curious about how machines work throughout his entire life. Observing his uncle working on cars during his childhood also inspired him to pursue this endeavor.
He has been employed by M&M Industries for three years as a maintenance technician. Upon graduation, he hopes to fulfill his dream by working in a management position in his profession.
He credits Chattanooga State for its small class size and for giving him the opportunity to get him the assistance that he needed.  "One of my instructors, Jeff Long, has made the learning process fun and easy. One of my favorite things about the Industrial Electricity Program is learning how to troubleshoot electrical panels. Chattanooga State has made the opportunities in my career limitless! I was very surprised when I received this wonderful honor because I do not pride myself on being a very strong speaker," says Moton.
Moton was nominated by his advisor and instructor Sandra Lambertino who believes that Kevin sets an example of a leader in class. He shares with the other students his experiences in the maintenance field and well as his personal experiences. He does everything required and goes above expectations in class. He is a person who is hungry for knowledge to advance his career in the maintenance field. "An example of Kevin's personality surfaced during a class trip to different manufacturers in the area; his eagerness to see and understand different manufacturing processes led to an employer seeking him out and offering a job opportunity. I feel that he will be very successful in whatever he does," she says. 
He received his OTSY Local Finalist pin on Friday, November 17, 2017 in Nashville, Tennessee. Moton hopes to also compete in the National OTSY competitions. "I hope that because of being recognized that more companies will be interested in me," says Moton.
He advises prospective students that are considering a technical degree in industrial electricity that there are no limits to the technology you will learn in maintenance. "Maintenance will always be needed," he says.
Other TCAT Outstanding Student of the Year nominees for 2018 included Tamika Colvin, Administrative Office Professional; Peggy Fortune, Administrative Office Professional; Nicholas Sartin, Industrial Electricity; Kenneth Ward, Barbering; Rebecca Whitmire, Welding; Elissa Wilcox, Cosmetology and Austin Williams, HVAC.
Ianthe Bryant first came to Chattanooga State during the 2016 spring semester to inquire about studying radiation protection. Ianthe received her high school diploma from Milligan Central High School in Milligan, Tennessee. She worked in radiation protection and was employed by TVA from 1982 until her retirement 2014. In 2016, two years into her retirement, she realized that she never had an opportunity to attend college and decided that she wanted to get her degree. It was then that she came to Chattanooga State to inquire about the radiation protection program.
"I wanted a solid base of knowledge in my chosen field. I had taken classes in the past from Chattanooga State professors and knew that I would be taught and not passed over. Having worked in the nuclear field for more than 30 years, I thought I knew my field, but I have learned so much more," says Bryant.
Since her retirement she has worked at Kenco Group as a warehouse associate and is currently employed part-time by Sodexo, Inc. at Memorial Hospital as a tray line attendant.
Ianthe is actively involved as a student and in the community. Last summer, she was chosen to represent the Chattanooga State Radiation Program Forum in New Orleans. The Nuclear Energy Institute funded her attendance. She also volunteers with Chattanooga State's Student Chapter of the American Nuclear Society. Outside of school she teaches Sunday school at her church.
Lisa Miller, assistant professor, radiation protection and nuclear power, nominated her. "I was happy to nominate her and am pleased that she won. Ianthe is a conscientious and courteous student. She works well with the other students in her class and often forms study groups. Ianthe has a strong work ethic and is committed to her pursuit and desire of graduating from Chattanooga State," says Miller.
Other Chattanooga State OTSY nominees included Tonya Burchard, Criminal Justice-Law Enforcement; Katharine Chiu, Hospitality & Tourism Management-Culinary Arts, Alia Copeland, Registered Nursing; Robert Griffith, Computer Information Technology-Cyber Defense;  John Jones, Computer Information Technology-Web Programming; Michele Loyd, Human Services Specialist; Dalton McDowell, Computer Information Technology-Networking; Andrew Nelson, Digital Media Design and Production: Media Technology; Nikita Tanks, Hospitality & Tourism Management-Culinary Arts.
Story by: Hannah Baker, Chattanooga State