Tumlin, Loisy and Jones Named Chattanooga State 2021-22 Faculty Chairs of Excellence
November 15, 2021 | Betty A. Proctor | Internal Press Release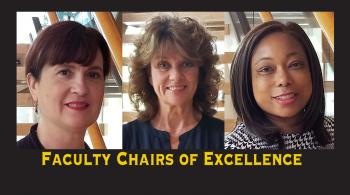 Clomeisha Tumlin, Marie Loisy, and Yonna Jones were recently named 2021-2022 Faculty Chairs of Excellence at Chattanooga State Community College.
As an assistant professor in the Business Division, Clomeisha Tumlin is this year's recipient of the First Horizon Business Chair of Excellence. Teaching students to reach their highest potential is Ms. Tumlin's passion. While serving as a master faculty for High Impact Practices (HIPs), Clomeisha implemented HIPs into the personal finance and human resources management courses to increase student success. Ms. Tumlin volunteers on several Chattanooga State committees, serves as a TN Promise and Building Outstanding Student Scholars (BOSS) mentor, SkillsUSA advisor, and within the community serves as treasurer of the East Brainerd Council for the Chamber of Commerce. She was named Chattanooga Chamber of Commerce Volunteer of the Year in in 2017.
"Chattanooga State and First Horizon have been great community partners over multiple decades and in a variety of ways," stated Jay Dale, Market President of First Horizon Bank. "Whether it is serving as the annual co-host of your Dinner of Firsts scholarship benefit since 2014, working with your excellent students and graduates, or supporting quality educators with the Chair of Excellence, we are proud of our partnership with Chattanooga State."
Serving as the 2021-22 Erlanger Nursing Chair of Excellence for Adults is Yonna Jones, an assistant professor of registered nursing, who began her association with the College in 2014. Marie Loisy, an associate professor of nursing, will serve as the 2021-22 Erlanger Nursing Chair of Excellence for Children. Ms. Loisy began her association with Chattanooga State in 1999.
"I am grateful to know that future nurses from Chattanooga State will enter through the doors of the beautiful Erlanger Health Science Center on campus and encounter a top-notch nursing education provided by top-notch nurse educators, like Yonna and Marie," noted Rachel Harris, senior vice president and chief nursing executive at Erlanger Health System.
Chattanooga State is well known for its outstanding Registered Nursing program with a ten-year average licensure pass rate of 97%. According to the Nursing Schools Almanac, Chattanooga State is the number one registered nursing program in the state when looking at the past decade of student performance. "The partnership between Erlanger and Chattanooga State spans more than 40 years and represents an important priority to provide excellent nursing education to serve our community," stated Ms. Harris, who noted that both recipients of the Erlanger Nursing Chair of Excellence demonstrate a commitment to patient safety and continuous quality improvement. "Erlanger is proud to honor and support these two outstanding nursing educators."
The Chattanooga State Foundation Chairs of Excellence program is designed to support and recognize outstanding faculty. "We are fortunate to have philanthropic partners committed to honoring excellent faculty who are making a difference in the lives of our students and the community," adds Nancy Patterson, vice president of College Advancement and Public Relations. "We remain grateful to Erlanger and First Horizon for being such outstanding collaborators with Chattanooga State."