Tigers Take on the Chattanooga Lookouts April 2
March 28, 2019 | | Internal Press Release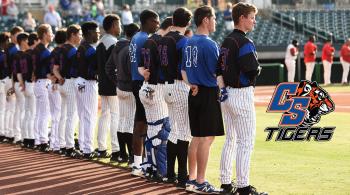 Peanuts, popcorn, hotdogs! Make plans to attend the 14th annual exhibition game between the Chattanooga State Tigers and the Chattanooga Lookouts on Tuesday, April 2. Game time is 6:15 p.m. at AT&T Stadium and general admission tickets are $5 each. All proceeds benefit the ChattState Baseball program.
According to Tiger Head Coach Greg Dennis, an exhibition event at this level is unique. "Not many community colleges get the opportunity to compete against professional athletes in any sport, so we are extremely fortunate to have developed such a wonderful relationship with Rich Mozingo and the Lookouts organization," states Dennis.
Twenty-six young men make up the 2018-2019 Tigers who are currently #2 in the NJCAA in hitting (.361) and #4 in team fielding percent (.970). Sean Cheely ranks #7 nationally in stolen bases with 24 and Noah Fitzgerald ranks 21st nationally in batting average with .451. Fitzgerald and Ty Delancey also have been ranked in the top 20 for RBI's nationally.
Tickets for this exciting game are available at ChattState by calling Greg Dennis at (423) 697-2418 or through the Lookouts box office located at AT&T Stadium. Tickets also may be purchased on game night.