Tech Goes Home Training Provided to Hamilton County Teachers
August 27, 2019 | Betty A. Proctor | Internal Press Release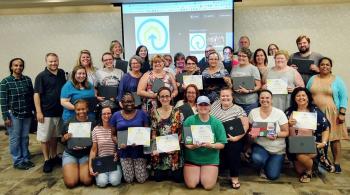 The Chattanooga State Community College Computer Information Technology (CIT) department, in partnership with Workforce Development and Tech Goes Home, recently provided training to more than 90 Hamilton County public school teachers on July 22, 23, 24 and 25.
Chattanooga Google certified trainers Nikki Russell, Burt Finley, and Mary Avans shared with teachers about how to use digital tools in the classroom. After participating in the training through Tech Goes Home program, teachers received a new Chromebook laptop for $50. 
The pilot program provided teachers with resources and hands-on training in Google Classroom, GSuite (Google Classroom, docs, sheets, forms, slides, and sites), various educational apps & resources, as well as robotics. Training also included effective strategies for incorporating Metacognition into the Classroom, Blooms Taxonomy, introduction to Chromebook, technology tips, and links to online resources along with a panel discussion on best practices in teaching technology. 
The C IT Faculty trainers included Savitha Pinnepalli, Noman Saied and Hanadi Mohammed. For more information, call Savitha Pinnepalli Department Head, CIT at 423.697.4756 or email savitha.pinnepalli@chattanoogastate.edu.