Spoken Word Contest Honors John Stigall
March 7, 2019 | | Internal Press Release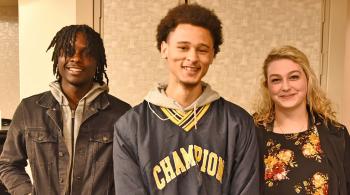 The Spoken Word Contest is sponsored annually by the Humanities and Fine Arts Division and Multicultural and International Student Services at Chattanooga State Community College in honor of the late John Stigall, a professor of English and Literature who was an author, poet, and spoken word artist. As part of African-American History month in February, all Chattanooga State students are invited to submit original poetry that focuses on aspect(s) of African- American culture, either past or present.
The submissions were shared with the campus community on February 19 during a judged reception, open to the campus and outside community.
Although it was difficult to choose three winners from the talented performances, AJ Morris presenting "Privilege" was awarded the $150 first place prize. Earning the $100 second place prize was Haleigh Fogtman for "Father Figures," and Marcus Ash placed third winning $50 for his presentation of "Me."
For more information on creative writing classes and special events, visit the Humanities & Fine Arts Division at Chattanooga State at www.chattanoogastate.edu/humanities-fine-arts.