Playing with Rituals: How Board Games Impact Culture
March 12, 2019 | | Internal Press Release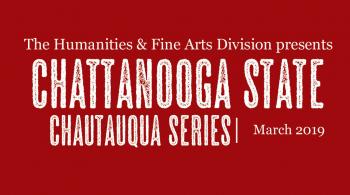 The Humanities and Fine Arts Division of Chattanooga State Community College will host the fifth installment of its 5th annual Chautauqua Lecture Series on Thursday, March 21 at 2:00 p.m. in the Humanities Theatre on Chattanooga State's main campus, with a dessert reception to follow.   
In 1874, people gathered on the shores of Chautauqua Lake in New York State to enjoy speakers, teachers, musicians, and specialists who entertained and educated members of the community, thus catalyzing an adult education movement that subsequently spread throughout rural America. Since 2014, Chattanooga State has hosted its own monthly Chautauqua to unite faculty, students, staff, and the larger Chattanooga community in exploring a wide array of topics within the Humanities. This year, Chattanooga State's Chautauqua Series features the informative and unique research of seven Humanities & Fine Arts faculty as well as the series finale with Writers@Work 2018-2019 visiting authors Beth Ann Fennelly and Tom Franklin. 
This month's lecture features Assistant Professor Eric Niemi, who will present "Playing with Rituals: How Board Games Impact Culture." Niemi's focus stems from the notion that we are currently in the "golden age" of board games. His talk invites audience members to analyze the rituals contained within these popular types of play, as he explores a brief history of board games, reveals how procedural rhetoric is embedded in this form of play, and then discusses how these games impact culture.
Niemi attributes his interest in the topic to his life-long passion for games and reveals that he grew up "trying to get his family to play Risk and Monopoly with him." He goes on to say that as a student, he was "fascinated by how games can tell stories and bring people together."  His research includes examining "how these games affect our culture and what people learn playing them and playing with others." 
Following Niemi's March lecture, the final installment in the 2018-2019 Chautauqua Lecture Series will be a special event offered in partnership with the Humanities Department's Writers@Work program, entitled "Writers@Work: The Art and Craft of Writing." During this session, the 2018-19 Writers@Work visiting authors, Beth Ann Fennelly, and Tom Franklin, will discuss their writing process, their collaboration on the novel The Tilted World, and the art and craft of writing. 
WHEN: 2-3 p.m., March 21, and April 11.
WHERE: Humanities Theatre, Chattanooga State Main Campus, 4501 Amnicola Highway.
COST: Free to all members of the public.
FOR MORE INFORMATION: Facebook: "Chattanooga State's Chautauqua Series"; Instagram: "chautauqua_series"; Twitter: "@ChautauquaSeries"; Email: keri.lamb@chattanoogastate.edu.
By Keri Lamb