Moxy Chattanooga Downtown Establishes $2,500 Scholarship Fund
May 3, 2019 | | Internal Press Release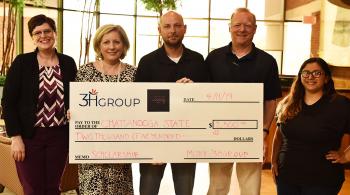 The Chattanooga State Foundation recently received a $2,500 scholarship to benefit students enrolled in the Hospitality & Tourism Management Program who may not have the financial means to attend higher education classes, and obtain a degree. This fund was made possible by proceeds from Moxy's A Cold One Beer fest.
"3H Group Hospitality, Ownership Company of Moxy Chattanooga Downtown knows the importance of continuing education," states Dwayne Massengale, team captain. "The Hospitality and Tourism Management Program at Chattanooga State offers the perfect segue by turning the booming tourism and hospitality industries into a promising career. Having an opportunistic program, like this one, that brings like-minded talented individuals together will only make the Scenic City thrive that much more," he adds.
Massengale, Moxy Chattanooga's Captain, was an adjunct professor for the Hospitality & Tourism Management Program for three semesters. He taught both revenue management and housekeeping management during his time at Chattanooga State. One of his students went on to graduate from the program, and is currently in a supportive sales and events role at SpringHill Suites Chattanooga Downtown/Cameron Harbor.
"Being able to give back to a program that I support so much is very fulfilling," shares Massengale. "I very much enjoyed my time teaching firsthand knowledge and experience that I have gained along the way."    
For more information about this and other scholarships at Chattanooga State Community College, please contact the office of College Advancement at (423) 697-2656.