Love for Lumberton Project at Chattanooga State
September 18, 2017 | Betty Proctor | Internal Press Release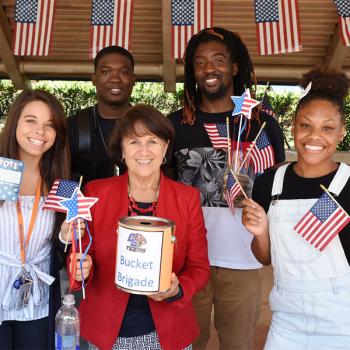 Before Hurricane Irma unleashed her fury, there was Hurricane Harvey, which heavily flooded Houston and the surrounding areas – among them was Lumberton, TX, a small town near Beaumont with just under 12,000 residents. The town, virtually underwater, is hometown to Associate Professor Erica Lux, who naturally was worried about her family and friends there. The flood waters have receded, but the town is in critical need of resources for clean-up.
Chattanooga State is known for being civic-minded and enlisted help from the Student Government Association, Veterans Club, Student Life, and the Media Club to create a cause called "Tigers for Hurricane Relief – the Bucket Brigade Campaign." After careful planning with the Gateway Center in Lumberton, the group began phase 1 that includes collecting money and gift cards to help with immediate needs. A $5,000 goal was set with a campaign deadline of September 29. Students, faculty and staff can drop off cash or gift cards in buckets placed in the cafeteria, library, print shop, President's office, bookstore or Student Life office. The public is encouraged to donate to this cause as well. Stop by any of the aforementioned locations to contribute.
Planning for phase 2 is in process. It will include the collection and distribution of items. Phase 3 will involve possible volunteer teams that will travel to the area and physically help with the clean-up work at the appropriate time.
For more information about the Love for Lumberton project, please call Dean of Student Engagement & Support Services, Sandy Rutter, at 423-697-4475 or email sandy.rutter@chattanoogastate.edu.