HOAR Construction Donates to ChattState First Generation Student Scholarship
November 29, 2022 | Betty A. Proctor | Internal Press Release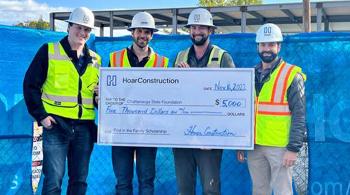 November 28, 2022 (Chattanooga, TN) --- HOAR Construction donated $5,000 to the First in the Family Scholarship in November, during Chattanooga State's 29 Days of Thanks & Giving.
"We consider Chattanooga State a partner in our business and likewise want to support the school in their endeavors and specifically in support of the education it provides to students in the community," stated Will Gaither, HOAR project executive.
"We are grateful to Chattanooga State for allowing us to help build the future of this campus," said Mr. Gaither. "Therefore, we want to 'give back' during this season." Chattanooga State's $21.7M Advanced Manufacturing Building, a 50,000 square foot, two-story workforce training facility, is being constructed by HOAR and scheduled to open in 2024.
Chattanooga State is grateful to HOAR Construction as one of several sponsors for its 29 Days of Thanks & Giving. See First Generation College Student Celebration for additional information.