Groundbreaking Ceremony for New TCAT Building Held at Chattanooga State
June 9, 2022 | Betty A. Proctor | Internal Press Release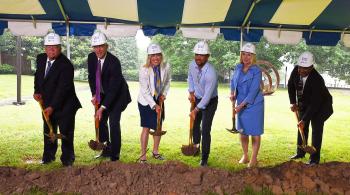 June 9, 2022 (Chattanooga, TN) --- Chattanooga State Community College held the groundbreaking ceremony yesterday for the future home of its $21.7M TCAT Advanced Manufacturing Building located on Chattanooga State's main campus. The 50,000 square foot, two-story workforce training facility is scheduled to open in 2024.
Chattanooga State TCAT is a leading provider of hands-on training, currently offering more than 25 programs of study that can be completed in one year or less. Upon completion of the Advanced Manufacturing Building, programs in Industrial Automation and Major Appliance Repair will be ready to accept students into these exciting new career paths. Existing programs that will be relocated and expanded include Industrial Electricity, Industrial Maintenance-Mechatronics, Computer Support Technician, Medical Assisting, and Administrative Office Professional. Plans also call for an expanded Student Services department with additional space for students and 80 more parking spaces.
Participating in the program were President Rebecca Ashford, Chancellor Flora Tydings, Mayor Jim Coppinger, Jermaine Freeman and Dr. Jim Barrott. Enjoy video highlights of the ceremony here.
For more information on TCAT Chattanooga visit chattanoogastate.edu/tcat or call (423) 697-4433.