Fall 2018 Dean's List Announced
January 2, 2019 | Betty Proctor | Internal Press Release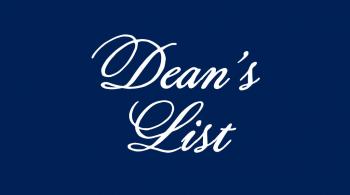 Chattanooga State is proud to announce that the following students in its service area have attained Dean's List status for the 2018 fall semester. Eligibility requirements to make the Dean's List includes students who have completed 12 or more hours of college-level work with a grade point average (GPA) of 3.5 or higher for that semester.
Bledsoe County: Garrett Logan Angel, Karlee Elizabeth Blaylock, Jared Andrew Compton, Aaron Landon Keck, Hunter Nicole Keck, Cortney G. Lewis, Jacob Lee McGee, Virginia G. Olinger, Addison Lee Smith, Macey Brooke Smith.
Bradley County: Dannielle Alicia Ahleman, David Koos Armao, Jennifer H. Armao, Makayla Layne Barnes, Alicia Jenan Beshears, Brandon Breland, Dusty R. Brown, William S. Burdette, Tanya Renee Burger, Charisma N. Carpenter, Christopher L. Cash, Jaclyn Diane Castleberry, Aylin Chavez-Ocampo, Krysten Elizabeth Childs, Angelica Grace Cole, Dustin T. Coleman, Alyssa Sky Collis, William Joseph Critchfield, Bailey Jordan Crumley, Hannah A. Dalton, Morgan J. Denney, Courtney Drake, Gabrielle Diann Eilf, Laura Jean Anne English, Cassidy D. Flowers, Aaron Cody Fowler, James Patrick French, Matthew Goatley, Valeria Grimaldo, Dylan Shreekant Harricharran, Austin T. Henderson, Distus Veston Hetiback, Austin Lee Hughes, Abigail K. Jennings, Spencer Troy King, Ian Michael Marchese, Elliana Martin, Jessica Marette McCann, Allison R. Mendel, Max A. Meza, Joseph Lonnie Millsaps, Mary Allison Munoz, Morgan B. Nalefski, Aiden L. Nash, Caleb C. Neal, Morgan Amanda Pride, Mitchell Lathan Rouse, Amber Starr Rue, Noah James Sample, Konya Ugo Antwunette Smith, Stacy Sosa, Andrew W. Spruill, Christopher Taylor, Lee Trentham, Kaylan D. Williams.​
Catoosa County, GA: Lynette Marie Allen, Jessica Brooke Anderson, Allie Lynn Beagles, Elizabeth Ashley Bennett, Joseph Collier Billingsley, Emily Jade Brock, Kelly Elizabeth Camp, Tasia Cooter, Zoe Elizabeth Graham, Sheryl L. Groves, Christopher R. Hemrick, Magan Echelle Mabe, Caitlin Ann McMunn, Madison Lee Morris, Doo Na Park, Jordan Riley Petty, Kara Nichole Rittenhouse, Inna Olegovna Sidlinskaya, Liliya Olegovna Sidlinskiy, Alexis Smith, Kurt Bradley Vandergriff, Joseph Henry Watts.
Dade County, GA: Olivia Marie Avans, Tabitha Croucher, Katherine Elaine Eudy, Madison Sabrina Gothard, Katelynne Robin Greene, Zakary Logan Hart, Hae Soo Kim, Helen V. Mills, William Sim Pruitt, Jordy Gage Ragon, George Anthony Ramirez de Arellano, Emily Kara Stafford.
Grundy County: Teah Jordan Bosio Cole Brewer, Madison Payge Burrows, Victoria Dion Camp, Ezri V. Davis, Cheyenne Nichole Earls, Alisha Rain Higgins, James Wyatt Lindlau, Eliza Valentine Masters, Jacob A. Nunley, Stephanie Marie Nunley, Aaron Jacob Rogers, Jase A. Rollins, Skyler Kade Shrum, Jamie Marie Smartt, Emily Maggie White, Melinda Lee Wise.
Hamilton County: Uzma Aaqib, Alyssa Marie Ables, Andrew Scott Adams, Joshua Louis Agudo, David A. Aitkenhea,d Trista Mirabelle Aldrich, Kevin Nicholas Alfultis, Daniel Alvarez, Hasnat Amir, Clarissa Elaine Antwine, Corrie Rothe Arnold, Brandon Arp, Garren Joseph Azar, Arianna Maria Azcona, Galina Babeshkova, Madison Bailey, Sarah Ladonna Cheryl Bailey, Brogen Jarrett Baker, Jackson Landon Baker, Nicholas W. Ball, Caleb Ballard, Skylar Annistan Barnett, Emily Ann Barsoumian, Ellen Bauer, Olivia Bella Bautista, Jacob Ryan Beattie, Seth William Beels, Baxter Banning Bell, Alvin I. Benjamin, Elizabeth Sarah Betrous, Lohni James Beverly, Noah J. Black, Beau Stanford Blaylock, Christina Boboljov, Hunter Michael Bolton, Tondalaya Thomas Bolton, Megan R. Boshers, Tessa Marie Bowers, John W. Bowman, Dilani Rashila Bowturagoda K., Emily Brittingham, Rachel Rene Brock, Sarah E. Brooks, Jeffrey James Brown, Julie Caroline Brown, Tyler Blade Brown, Katie Ann Bryan, Jessica H. Bullard, Dale S. Bunker, David Bunt, Zoe Katheryn Burge, Samantha Burger, Andrew Brent Burgess, Angelo Omar Burris, Marcus John Cadavero, Heather Kathleen Calderaro, Henry Patterson Caldwell, Abigail R. Calfin, Caleb James Callaham, Brandon James Callanan, Colton D. Cameron, Joseph Anthony Camilleri, Brandon D. Camp, Alayna B. Campbell, Amber Denise Cardwell, Landon Seth Carpenter, Mabry Jane Carpenter, Mirian Carrillo, Jacob Carroll, Ivy N. Cartwright, Dunia Sarahi Celiz, Ashley West Chambers, Joseph Nathan Cheek, Joshua James Chouinard, Jessica L. Choy, Amy Chubb,Alana Dale Clark, Jordan L. Clark, William G. Clark, Johnathon Andrew Cleek, Melissa Kaye Cleveland, Alexander Paul Clifford, Danielle Marie Clostermery, Shelby Quinn Cobb, Heather Lorine Cody, Brittany Nicole Coffelt, Madison Joy Coleman, Anne Stuart Collins, Christopher Chase Collins, Carlos I. Colon, Austin F. Combs, Kassandra M. Conner, Charity E. Cooke, Christopher T. Cope, Jessie Marie Coppage, Kamille Micol Cordell, Francine Kennerly Correa, Chyenne Aislynn Covington, Caleb Christian Cox, Jessica Danielle Crabtree, Nicholas Andrew Crooks, Sarah Grayce Crouch, Nicholas Jackson Cudd, Joshua Cundiff, Justin Bailey Daniel, Alicea Chinai Davis, Andrew Jefferson Davis, Gwendolyn Lenore Davis, Sofia Lynn DeCredico, Kyle Alexander Deabler, Rachael Elizabeth Deakins, Wesley Everett Deming, Nicole Cecilia Denley, Tesla Rayne Dietz,Bonnie June Disbrow, Madison O. Dodd, Gabriel Filipe Dos Reis Correa, Meredith Ashley Doux, Emily Lauren Downs, Matthew Ryan Downs, Ronald Maurice Driver, Lejla Dukic, Josie Elizabeth Dunnaway, Juliana C. Dzhuga, Brittney Jane Ealy, David Eisenstadt, Brooke Lyn Ellis, Jeremy Demond Elston, Jonas Barrett Ervin, Kenya Shawnese Ervin, Leslie Briar Eselgroth, Courtney Espy, Andrew Eubanks, Jakoby Torrell Farmer, Kendell M. Faulkner, Roland Adrian Federico, Hannah Christine Finley, Sara Michelle Finley, Briana Janae Fitch, Caroline E. Fleissner, Tristen L. Flemmons, James Robert Fry, Sarah Elizabeth Fuller, Rachel Blair Fussell, Devan Christine Gann, Kathryn Clara Gardner, Colby Danyale Garner, Mary Rose Garrity, Deirdre Grace Gifford, Gracie Gilbert, Michael Ryan Gilbert, Amber Nicole Gipson,Jacob Douglas Gish, Rachel K. Glover, Jessica Godkin, Jean-Luc Alexander Godsey, Samantha Clair Goe, Garrett Nathaniel Goff, Kiara Ruby Gomez, Lizeth A. Gonzalez, Perez Darya N. Goreva, Lowell Alexander Gorman, Allison Haley Graham, Caili R. Graham, Corey Antwann Gray, Lauren Elizabeth Green, Sarah Jane Ferguson Green, Amber Charlotte Gridley, Katrina Brooke Griffin, Kristen Lynn Grigsby, Vicente Guerrero, Matthew Charles Hadden, Abby Hall, Alyssa Anne Hallam, Casey Dawn Hamby, Abigail Nicole Hammel, Taylor R. Harbison, Bret Leland Hardy, Lucille Harlow, Rylan Lee Harper, Audrey Lynn Harrington, Jessica Autumn Harris, Madison Kaylen Harrold, Thomas B. Harrow, Jillian Michelle Hartline-Ponds, Tiffany Nicole Harvey, Lacie Nicole Harvill, Victoria L. Hatmake,r Kayle M. Haynes, Claton W. Heath, Olivia Anne Heath, Amanda G. Heitmuller ,Sarah Dalia Helsley, Karrigan Lindsey Heningburg, Edward Charles Henle, Destin Tyler Henry, Zachary Alexander Henry, Sara A. Hensel, Holly Erin Hess, Madison H. Hester, Kelsey Star Hickey, Mason Edward Higdon, William Garrett Higgins, Alaina Kirstin Hill, Simeon R. Hinchman, Savannah Racquel Hinderer, Linda G. Hines, Sasha Claire Hitachi-Kizziah, Priscilla Marie Hodges, Taylor Nichole Holland, Megan Shianne Holloway, Andrew Sean Hooker, Natalie Grace Howard, Amy Renee Hubbard, DeCaira LaVette Hubbard, Christopher J. Hudson, Bernardino Huerta, Ashley N. Huff, Priscilla L. Huffman, Melodie Denise Hull, Gabrielle Analise Humble, Emily Paige Humes, Brittany Hunter, Jacob Ransome Hutchings, Kristen N. Hutsell, Thomas C. Hutto, Alexander David Iglesias, Michelle E. Ja'Anini, Britney Christine Ja'anini, Josiah P. Jackson, Cayla Dawn Jacob Jackson, James Kaleb, Michael James, Natoria Renee Jeffries, Jacob E. Jenkins, Regan-Lea Symone Jenkins, Audrey Elaine Jennings, Mary Christine Jennings, Natalie L Jennings, Christopher Cameron Jensen, Andrew Logan Johnson, Bradley King Johnson, Joseph M. Johnson, Jozie Ellen Johnson, Fox Johnston, Devin B. Joiner, Candace L. Jones, Jesse Randal Jones, Kelly Jones, Kaitlynn Alexis Jordan, Nicholas Anthony Jung, Tyler Ryan Kaiser, Natasha Alison Kanichuk, Michael Andrew Kaylor, Summer A. Kaylor, James D. Keef, Samuel David Kertay, Andrew Bohsuk Kim, Raymond O. Kim, John Hewitt Ryan King, Samuel Gamble Kirby, Josephine Helene Kleemann, Anthony J. Klompien, Jessica Klovensky, Edward Paul Knopick, Alexandria Isabel Kouvarakis, Robert Ray Kronenberg, Bradley Thomas Kurkowski, Laurel Olivia Kuyrkendall, Caleb Kvale, Jonathan M. Lafevor, Alex W. Lamb, Nathan Allen Lambeck, Krystena R. Land, Megan Christine Landess, Linnea Larson, Stephen Finis Lawrence, Colton Ryan Layne, Kelly M. Layne, Caroline Joan Lee, Elijah Ransom Legg, Ethan E. Legg, William Noah Lemley, Caitlyn Zora Celeste Lewis, Lavaughn Lamont, Lewis Mason Lieberknecht, Brody Lightfoot, Amber Kaylee Litviak, Raissa Lladoc, Brian Andrew Long, Aleczander Hadyn Longmire, Robyne Lopez, John Louisdor, Heny S. Loutzenhiser, Patrick Shea Loyd, Lauren Olivia Luedtke, Riana Paige Mahlo, Bridgette A. Majeed, Joseph Braxton Malone, Robert Grant Maner, Bailey N. Martin, Jenny Marie Martin, Richard Carl Martin, Timothy J. Martin, Austin D. Massey, Jacob Andrew Matthews, Sydney Gail Matthews, Hannah Danielle Maxwell, Brandon Tristen Lee McBay, Elizabeth Wynter McCormick, Nick Hideo McElroy, Emily Christian McGraw, Willie Mae McGrue, Jared Lawrence McKelvey, Zora Jasmine Janyce McKissic, John Lee McNair, Hayley Nichole McNeal, Emily Grace McQueeney, David C. Mcclain, William T. Mcelyea, Brittany D. Mcgaughey, Asha I. Mcgowan, Trevor C. Mckenzie, David Richard Mead, Gail Ann Meeker, Joseph Edward Meldahl, Ashley Mello, Caitlyn Iona Mercer, Kimberly Mae Merfert, Mallory S. Merritt, Jacob Mertz, David R. Mikhaylishin, Michaela Rene Miller, Roman N. Miller, Rachel Beth Million, Joshua Taylor Millott, Chloe Renae Mitchell, Carly R. Molnar, Amy Moore, Jarred William Moore, Yuri Anahi Morales, Jack Stanton Moreland, Cale Phillip Morgan, Tatum Alexis Morgan, Tyler Wayne Morris, David Brooks Mosteller, Alexis Marie Mullins, John E. Murphy, Robert Thomas Murphy, Roderick S. Musgrave, Anne Myers, David E. Neff, Joshua R. Nelson, Lechere Narie, Neou Gesa Nestler, Remington R. Newton, Harrison Matoy Nichol, Ashley Nielsen, Chandler Odell Nix, Jushanti Noel, Robin M. Noseworthy, Mariah Frailey O'connell, Matthew Jacob O'neil, Alex Stantrell Odom, Sierra M. Oliver, Anthony Henry Olvera, Tristan Jared Ortiz, Angela Marie Overton, David Michael Owens, Brianna Noelle Paige, Sarah Park, Jennifer Parker, Major D. Passons, Tiffany Nicole Patterson, Lyndsay Erin Payne, Chandeya M. Peace, Ian Weber Pearson, Imani Danger Pelton, Chance Hunter Peterson, Daniel Peterson, Sara Elizabeth Petty, Michael A. Phares, Rebecca V. M. Phelan, Elena Damaris Pickett, Anna Claire Pierce, Austin L. Piper, Amanda Marie Pippin, Abdulrazzak Javed Pirzada, Thomas Paul Platt, Gage Ryan Plotner, Joseph Michael Polchek, Nicole Paige Powell, Cassidy Danielle Prahl, Bryanna Victoria Prestridge, Naveena Ann Priestley, Destiny Amber Prince, Sara Nicole Pruitt, Sarah Mae Quarternik, Audrey Kathleen Rackel, Madison Lee Rader, Rachel Elise Rader Micaiah Renee Ragsdale, Tonya Lee Ramagos, Allen Christopher Ramey, Alexia Jade Reagor, Kayla Lynn Redmon, Suzanna Leigh Reece, Bridget Donjeny Reed, Samuel Scott Reed, Andrew John Reimer, Sara Scout Reinert, Kobea Delaney Reynolds, Eric C. Rhoades, Kaitlyn Elizabeth Richardson, Stephen Daniel Ricketts, John Ezra Roberts, Madison C. Roberts, Alyssa Marie Robinson, Veronica A. Robinson, Rachel Ann Rogers, Nicholas Graham Rollins, Daniel Vitaly Romero, Micayla Leigh Rowan, Joshua Stephen Rowell, Michelle Elizabeth Rowland, Brett Daniel Rucker, Haley G. Rucker, Sarah S. Rush, Andrea Morgan Russo, Justin Sager, Delwyn George Sam, Ami Judith Sanchez-Barrios, Taylor Leann Sardina, Gary M. Satin, Logan Caney Satterwhite, Arielle Scalioni, Rachel Mackenzie Schmidt, Brittany Elizabeth Scoville, Autumn Melody Seals, Madeline Seay, Matthew Ross Sheets, Savannah Noelle Sheets, Bushra Ashfaq Sheikh, Jessica Shepherd, Geddes G. Sherrell, Hannah Brooke Sherrill, Sarah M. Shved, Cassidy Morgan Simms, Christopher Jesse Simpson, Desire' Nichole Sims, Rachael A. Sims, Mallory Brooke Sisson, Chirayuth Sit, Mikayla G. Skillman, Anna Skripkar, Adrianna Mayson Smith, Joshua Conrad Smith, Megan Lynette Smith, Mia Mackenzie Smith, Michael Lee Smith, Raven MacKenzie Smith, Spencer K. Smith, Trent Didier Smith, Elizabeth Marie Snellgrove, Ethan Brian Snyder, Quinn Jordon Snyder, Tiffany Lee Spain, Alexandra E. Spalding, Justin Spencer, Sydney Orion Spencer, Marguerite Camille Stegall, Zachary Adam Steiman, Andrew Logan Stephens, Brittany Paige Stephens, Alexis Diana Stevenson, Cameron Bruce Stewart, Davis J. Stewart, Gavin Timothy Stewart, Katrina Marie Stickel, Patrick Denis Stoker, Rachel Marie Stone, Jacquelyn Elizabeth Stracener, Nathan Shayne Stromley, Olaf Harding Stubsten, Kyleigh Breanna Sturdivant, Joseph Sturkey, Abbey Elizabeth Sutherland, Charles Sutton, Cody Allen Sutton, Shelby M. Sutton, Ashley A. Swanson, Patrick Thomas Swingle, Alexa M. Szukhent, Samuel Bryce Tassin, Owen R. Teague, Abdelkrim Tebbache, Elon Gabrielle Teems, Yoselin Gabriela Tesorero, Brooke Ashlee Thomas, Abby Claire Thompson, Katelyn Nicole Thompson, Katherine Claire Thompson, Avery-Michae W. Tisdale, Theodore Paul Tolman, Armani Larenz Tooks, Leslie Lauren Torner, Luke Treadway, Alicia Maria Tripp, Alyssa Trott, Benjamin Tuggy, Stephen Turman, Cameron Alexander Turner, Dustin Lee Turner, Aiste Eugenia Valentavicius, Caleb Isaiah Vandergriff, Madison Vistoria Vandergriff, Samuel I. Vandergriff, Gabriella Summer Varnell, Ashley Lynette Varner, Lauren Marie Vaughn, Whitney N. Vaughn, Jacob Arnold Wagner, Kelsey Ruth Wahler ,Jonathan Daniel Walker, Lorena Katelynn Wance, Logan Eric Watkins, Samuel Lee Watson, Claire Shao Webb, Jerry L. Webb, Samantha Elizabeth Wells, Victoria Lois Wells, Heather Diane Whalen, Miles D. White, Joseph Wyatt Whitener, Kerry Whitener, Kristina Willard, Ethan Luke Williams, Kelsey T. William,s Madison Rose Williams, Sierra Faith Williams, Taylor Austin Williams, Stephanie Ellen Willoughby, Daniel D. Wilson, Katelyn Anne Wilson, Reagan Nichole Wilson, Rachel Leia Wimpee, Logan T. Wingfield, Rebecca Lynn Winkler, Christopher Lowe Winters, Brianna Nicole Wise Kyler, Dean Witt, Tyler James Witt, Tessah Savanna Jayne Woodall, Alexandria S. Woodruff, Rachel Faith Woodward, Grace Katherine Wright, James Patrick Wright, Joshua David Wright, Brandy Michelle Wyrick, Amy C. Yamashita, Kenzy G. Young, Taryn Elease Young, Devin Leah Younger.
Marion County: Tyler Douglas Butner Cameron Cage Cagle, Shelley Christine Gibson, Rebecca Ross Gilliam, Jacqueline Marie Grant, Lauren Ashley Hargis, Abagael M. Hatfield, Caleb Duncan Henderson, James Aaron Hudson, Robin Amber Kilgore, Hannah D. Lanham, William Andrew Lofty, Brydon Trent Mabry, William Edward Martin, Ashton Taylor McGrew, Brianna L. Murphy, Jaclyn MaKayla Nelson, Bethany Joy Park, Hannah Christine Rollins, Heather Lyn Smith, Julisa Joy Smith, Jennifer Marie Thomas, Kayley Sierra Turney, Erin Bethany Watson, Kimberly Wooden.
Rhea County: Josh Thomas Alonso, Tia M. Anderson, Kaitlin Hope Berkley, Isaac Caleb Bolton, Nicholas McKale Brooks, Leah N. Brown, Kimberly Masha Cato, Kaitlynn Joyce Creasman, Sarah Elizabeth Crumbley, Faith Laural Davis, Bradley Peyton Dorn, Ron Lee Farmer, Courtney Paige Filyaw, Ruby Ann Francis, Ashley Suellen Gould, Heather Anjanette Hall, Hailee Miranda Hickman, Brendan Cruz Hilton, Cheyenne Lasha Holland, Micah Eastman Hunter, Logan Rhett Johnson, Sara Elizabeth Jones, Keeli M. Keel, EmmaRuth Seville Keylon, Tiffany A. Lajas, Omar Santiago Lopez, Myrandia C. Lynch, Madison Leeanne Martin, Olivia F. Masterson, Robert Eugene McCrary, Trace Dakota Montgomery, David Woodward Moretz, Ronald Gene Morgan, Cynthia R. Nash, Hunter Dallas Andruw Reece, Mahaley Lane Reed, Caitlin Renee Reel, Olivia Clarie Rekoske, Spencer Drake Robinson, Jon Christian Rowland, Diana Santiago, Sara Ann Self, Sandra Sue Tallent, Diva Nguyenthuy Tran, Samuel R. Vaughn, Addison Marie Walker Ariel Renee Warner, Destiny Noel Warner, Destiny Lakota Watts, Jacob Austin Williams, Braden Alan Wilson.
Sequatchie County: William Jacob Akin, Alex S. Barker, Aundrea Brooke Blevins, Ashlyn Marie Brown, Brandon Bryant, Samuel Francis Callaway, Emily Maxine Griffith Campbell, Logan Tyler Campbell, Jayla Cheyenne Cartwright, Laci Nicole Collingwood, Donnis Blanche Crowe, Brianna Leshay Cunningham, Ciara M. Channel Davis, Emma Barrett Denmark, Samuel Jordan Frizzell, Samantha Vera Mae Geer, Tyler Jon-Thomas Gentile, Brayden Connor Grant, Lori Dennis Hall, Daniel Brett Harris, Savannah Lee Haynes, Hanna Brooke Hickman, Charles Riley Housley, Krysten Adair Howard, Gabriel G. Jackson, Alyssa Danielle Kilgore, Kenneth Jaxson Kilgore, Priscilla S. King, Ashley Paige Lawson, Vanessa Kate McClain, Abby Grace McClendon, Kaylee Nicole McDowell, Marisa C. Mcdowell, Holly Nicole Pickett, Taylor Brooke Pirtle, Thundur Draven Roberts, Muhammad Shahmeer, Mary Delyla Jean Smith, Lori Nichole Sneed, Haley Alisa Stockwell, Dustin Allen White, Randall Aaron Worley.
Walker County, GA: David Grant Blaylock, Holly Nicole Brellenthin, Amanda Nicole Butler, Chandler Stephen Carver, Dawson Tobias Dalton, Luke Christopher Darr, Hailey C. Davis, Keelin Isabella Dana Doss, Alina Drevenchuk, Bailey Lynn Farrow, Randi Erin Fisher, Ashley Michelle Hale, Samuel G. Ibach, Shalyn Gabrielle Landes, Kayli Aspen Mackenzie McCollum, Jessica Brooke McMahan, Steven Charles Morden, Ciara Lashondra Nelson, Bailey R. Pell, Nicholas Tanner Petty, Mariah B. Provencher, Goery Rattanakousonh, Jennifer Renee Redmon, Ashley Nicole Reid, Naget R. Rutledge, Tessa Anne Sentell, Montgomery Dwight Smith, Michael Ross Theune, Brazlyn Sierra Valdes, Justin Wheeler.
Congratulations to these students on their academic accomplishments! Chattanooga State spring classes begin January 22, 2019. Call (423) 697-4400 or visit www.chattanoogastate.edu for information.