Chinese School Resumes September 9
September 8, 2018 | Betty Proctor | Internal Press Release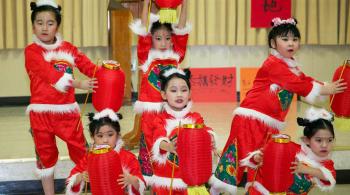 Ming Zhong, current Chattanooga Chinese School principal, says 74 students are currently enrolled (registration is ongoing) in levels one through five, as well as traditional and adult conversation classes this fall. Student ages range from six to mature adult. Operating as a school through a contract with Chattanooga State Economic and Workforce Development, it remains as popular now as when it first began the fall of 1996, under the leadership of Mrs. Fui-Fang (Emma) Chen.  
Mrs. Li-Hwa Huang was the first principal of the school when it began in February 1978 under the auspices of the Chattanooga Chinese Association, a non-profit organization. A retired associate professor that taught physics at Chattanooga State, Huang was also a teacher for the Chinese school.
"Due to our school's presence at Chattanooga State, many of our teachers, students, and members of our Chinese Association and the Chinese community are familiar faces in your school. Chattanooga State has made an impression in our Chinese community. Some of our students are students of Chattanooga State and some of our teachers have become teachers at Chattanooga State," states Thelma Chan, past Chattanooga Chinese School principal.
Chattanooga Chinese School is a well-established and leading institution of learning with more than 30 years of history in Chattanooga.  Staffed with experienced and professionally trained Chinese language and arts instructors, in the 2018-2019 academic year, the Chattanooga Chinese School will continue to offer seven different levels of Chinese language classes for both children and adults. In addition, the school will also offer Chinese folk dance class and Kong Fu classes for children. These classes will be taught by professionally trained and reputable instructors. 
First semester classes will meet every Sunday from September 9-December 16, 2018.  The class will not meet on Sunday, November 25 due to the Thanksgiving holiday.
Second-semester classes will meet every Sunday from January 20-May 19, 2019. The class will not meet on Sunday, February 3 (Chinese New Year is February 5) and will not meet on Sunday, April 21 (Easter holiday).
To register, see https://registration.xenegrade.com/cscc-ce/coursedisplay.cfm?schID=8159or call Economic Workforce Development at (423) 697-3100.