ChattState Volleyball Signs 9: First Match August 28
July 26, 2018 | Betty Proctor | Internal Press Release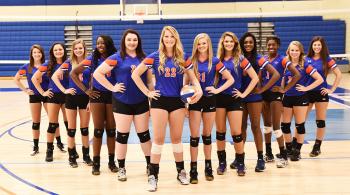 Chattanooga State's inaugural women's volleyball team has added an additional nine signees, bringing the number of team members to 12. The women have been practicing throughout the summer in preparation for their opening match at home on August 28 against Hiwasee College beginning at 6 p.m.
The newest signees hail from Hamilton County and the North Georgia area joining current team members 5'11" middle hitter Sakari Pack, 5'8" outside hitter Anna Maria Novelli, and 6'2" middle hitter Sidney Killingsworth.
Ricki Lynn Bickley is a 5'9" outside hitter with an established a record of 664 kills, 109 solo blocks, a total of 140 blocks, and 150 aces during her volleyball career at Ringgold High School which also included awards for highest stats in blocks, kills and digs on the Ringgold varsity team. She has received awards for All-Region, Catoosa County Player of the Year, and was named a Best of the Preps player in Chattanooga. She graduated with highest honors completing four pathways and was a member of the National Honor Society and Beta Club.
Scarlett Hamrick, a 5'9" defensive specialist and a graduate of Lookout Valley High School, has joined the Chattanooga State Lady Tigers having played volleyball and softball during her high school years in addition to cheerleading and rodeo activities. 
Chattanooga Christian School graduate Brieana Hemphill, a 5'8" right side hitter, was a three-year starter with a total of 512 kills, 57 blocks and 164 digs at CCS. She was named All-District Team and Team Captain in 2018.
Cayla Jacob is a 6'0" middle hitter and former standout from Heritage High School who currently attends Chattanooga State. As a Lady General, she finished the season with an overall record of 29-5 and 107 blocks ranking her as number one in the region. Cayla maintains a GPA of 4.0 and will be pursuing a Nursing degree.
Josie Jordan's love of volleyball began at age nine in the Soddy-Daisy Kids Club. She played on the Sale Creek Middle High School team for three years and moved on to the Scenic City Volleyball Club at age 14 as a defensive specialist. Josie decided to accelerate her education when she was a freshman by enrolling in classes at Collegiate High School on the ChattState campus, where she graduated high school at age 16, before choosing to continue her volleyball career with the Chattanooga State Lady Tigers. Josie is a 5'9" Libero/defensive specialist.
Tyner Academy High School graduate RoShawn McGee is a 5'9" right side hitter who excelled academically as a member of the National Honor Society and Beta Club in high school. At Chattanooga State, RoShawn plans to major in Criminal Justice.
Dakota Rawiszer discovered volleyball at the YMCA in 2010. She played volleyball throughout middle and high school in addition to club ball for five years. During high school she was named All-District, All-Tournament Team, and All-Region before being named captain and Most Valuable Player during her senior year. The 5'10" freshman will serve as setter/side/middle hitter for the Lady Tigers.
LaFayette High School grad Emily Redden, a 5'5" setter, fell in love with volleyball during sixth grade. She did so well that she was named All-League two year later. As a high school freshman, she served as captain of the JV team and moved up to varsity level as a sophomore before ending her high school volleyball career as varsity captain, having achieved her 1,000th career assist. As an All-Region 2nd Team and Walker County Dream Team member, she was voted Most Valuable Player for her senior season. Her 4.0 GPA and being named as a Distinguished Honors Graduate will serve her well as she settles into Chattanooga State Community College.
Kayla Wimpee is a 6'1" middle hitter. A Ridgeland High School graduate, Kayla played volleyball for seven years in middle school and select club volleyball for three. She then played at Dalton State College for one year in addition to coaching club ball for two years with Georgia Volleyball Club before signing with Chattanooga State Community College where she is pursuing an Allied Health Transfer degree.
Chattanooga State Women's Volleyball has 16 matches on their inaugural schedule this fall. For more information, please call Head Coach Janet Tate at 423.697.4426 or email janet.tate@chattanoogastate.edu.