Chattanooga State's SETWorks Students Earn Industry-Recognized Credentials for Employment
July 17, 2019 | | Internal Press Release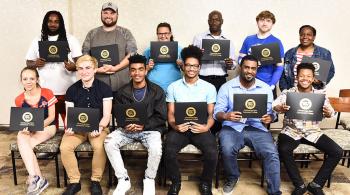 The first cohort of SETWorks (Southeast Tennessee Works) recently completed their in-class training, celebrating with a completion ceremony at Chattanooga State Community College. A total of 13 individuals celebrated their completion of the first half of this innovative work-based learning program that was funded by the Benwood Foundation. The training is divided into two six-week segments – the first six weeks spent in classroom training on the campus of Chattanooga State, followed by an additional six weeks of on-the-job training with a partner employer. 
The classroom training provided participants with the opportunity to build a strong foundation in the principals of advanced manufacturing before starting their work assignments with local employers. All individuals started with the OSHA 10 General Industry training and then entered the four individual training modules that make up the Certified Production Technician (CPT) curriculum through the Manufacturing Skill Standards Council. Each step in the process also provided participants the opportunity to earn individual credentials for each module (Safety; Quality Practices & Measurement; Manufacturing Processes & Production; Maintenance Awareness). 
At the end of the in-class training portion of the program, the 13 individuals collectively earned a total of 56 nationally-recognized advanced manufacturing credentials that they can take with them into the workplace. These credentials not only increase the work-ready skills necessary for employment, but also help set the participants apart from other applicants. 
Partner employers for the first cohort included Chattanooga Bakery, Gestamp, Gold Bond, Hamilton Plastics, M&M Industries, and Southern Champion Tray. HTI Employment Solutions provided the human resource and payroll support for the program. Upon successful completion of the 12-week program, individuals had the opportunity to be offered direct-hire, full-time employment with the employers. 
For more information on SETWorks, contact Patrick O'Hagan at (423) 697-3230 or email Patrick.ohagan@chattanoogastate.edu.