Chattanooga State's Braxton Mahr Named Semifinalist
October 26, 2020 | Betty A. Proctor | Internal Press Release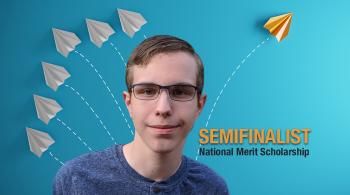 Collegiate High at Chattanooga State senior Braxton Mahr was recently named a 2020 National Merit Semifinalist. Braxton, whose interest lies in computer science, is a Global Scholars Honors Program student and a member of Phi Theta Kappa International Honor Society.
Braxton's interest in computer science earned him a spot as a remote assistant for Poland under the CoronaNet Research Project. "The project keeps track about how the governments of the world are using policy to mitigate and fight against COVID-19," explains Mr. Mahr. "This includes everything about the policy and its target, as well as how and when the policy will be enforced."
Mahr will be a December 2020 Collegiate High graduate, also receiving his Associate of Arts, University Parallel degree. He has applied to Waseda University in Tokyo, Japan and Massachusetts Institute of Technology (MIT) where education, research and innovation are coveted.
"In all of my interactions with Braxton, I am impressed not only with his scholastic aptitude but also his inquisitive demeanor," states Amanda Bennett, director of Global Scholars. "The depth of his knowledge on any given subject is remarkable, but more impressive is that he always expresses a genuine interest in learning more or new ways to approach a topic."
When facing challenges, Braxton says determination, dedication, and the willingness to learn help you to fight your instinct to fall back on excuses. "Take something from the situation. You may not succeed the first time, but you will have learned something for next time."
As a National Merit Semifinalist, Braxton joins an elite group of approximately 16,000 high-scoring high school seniors, who have the chance to advance to finalist standing by meeting high academic standards and other requirements. Approximately 7,600 Merit Scholarships will be announced in spring 2021.
"Braxton is an exemplary student and excels in and out of the classroom. We are proud of his accomplishments and honored that Braxton chose Collegiate High," shared Dr. Sonja Rich, Collegiate High principal.