Chattanooga State Voice Students Earn NATS Recognition
May 15, 2019 | | Internal Press Release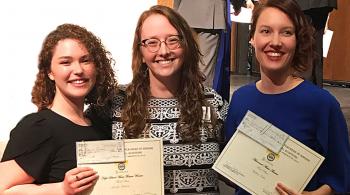 Recently, the music department at Chattanooga State Community College sponsored six students at the National Association of Teachers of Singing Mid-South Regional Auditions (NATS). Established in 1944, NATS encourages the highest standards of the vocal art and of ethical principles in the teaching of singing. It promotes vocal education and research at all levels, both for the enrichment of the general public and the professional advancement of the talented.
This audition was a competition between voice students from colleges and universities in Tennessee and Kentucky. More than 350 students participated in the auditions, and Chattanooga State was fortunate to have two current students and one alumni place as winners in the event. 
Winners included:
Valerie Duke, Nursing major, earned 1st Place in the Advanced Musical Theatre division
Genna Raborn, early college program student, earned 3rd Place in the High School Musical Theatre division
Alumnus Tyler McKenzie earned 1st Place in the Advanced Classical Men division
"We are so proud of all of our students and alumni who worked hard to prepare and participate in this opportunity, and are so grateful for the wonderful way they represent our music department and our school," said Dr. Jennifer Wilson, Chattanooga State associate professor music.
For more information about music programs at Chattanooga State, call (423) 697-2460 or visit https://www.chattanoogastate.edu/humanities-fine-arts/music.