Chattanooga State TCAT Programs Graduate 600
September 14, 2017 | Betty Proctor | Internal Press Release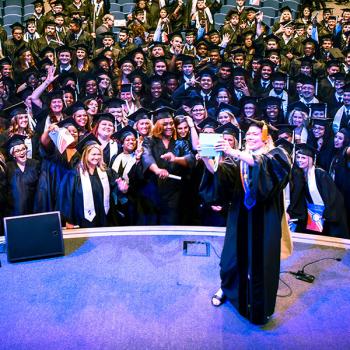 Of the 600 students graduating from programs in the Tennessee College of Applied Technology (TCAT) at Chattanooga State Community College, 307 participated in annual commencement exercises on August 3, 2017 at Abba's House in Hixson, Tennessee.
Commercial Truck Driving, Licensed Practical Nursing, Welding Technology, Cosmetology, and Industrial Electricity were the top five programs in the TCAT division with the most graduates. Of 600 graduates, 455 earned a Technical Diploma, while 145 were awarded a Technical Certificate. Fifty-six percent of graduates were aged 25 and up with the median age being 26.  Sixty-two percent of graduates were male and 38 percent were female. Students from the following countries represented in the 2017 graduating class: El Salvador, Haiti, Iraq, Jamaica, Kenya, Mexico, Moldova, Panama, Poland, and Russia.
The 2017 commencement speaker was Krissy DeAlejandro, Executive Director of Tennessee Achieves, who told the graduates, "Swim in your achievement and that anything that is 'worth it' should challenge you … make you better."
Chattanooga State Community College President, Dr. Rebecca Ashford was also very pleased with the accomplishments of the recent TCAT graduates saying, "We are so proud of the graduates of our TCAT programs. They have worked hard and their accomplishment positions them for new careers in high demand jobs. This graduation signifies a positive change in the lives of our graduates and their families."
For more information about enrolling in diploma or certificate programs through the Tennessee College of Applied Technology, where the graduate placement rate is 94 percent, visit www.chattanoogastate.edu/tcat. Tennessee residents 24 years of age and older can access the TN Reconnect grant and attend tuition-free! Also, future 2018 high school graduates wanting to enroll in a TCAT program are eligible for the TN Promise funds. TN Promise application deadline is November 1, 2017.