Chattanooga State Student Chapter of ASNT Formed
March 6, 2019 | | Internal Press Release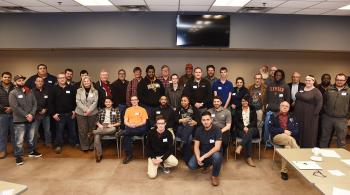 For almost three decades, the Chattanooga Section of American Society for Nondestructive Testing (ASNT) was the largest and most active section in the U.S.; however, during the past five years, the Chattanooga Section had little or no participation and was dissolved after a section vote.
That has all changed following a reorganization meeting of the Section held at Chattanooga State Community College. George Hodges, ASNT Region Six Director and a seasoned Section officer, met with Chattanooga State students, faculty and interested participants for the purpose of establishing a new Chattanooga ASNT Student Section, electing officers and exploring new technologies required by today's industry.
Chattanooga State's Non-Destructive Testing (NDT) is a popular and in-demand program by students and employers alike. Part of that reason has to do with the program's 100 percent placement rate and the fact that Chattanooga State is the only two-year academic institution that is accredited by the Accreditation Board for Engineering & Technology (ABET). "We are now working with ASNT to reorganize the section and have planned to submit three-to-four articles this year for publication in their premier journal, Materials Evaluation focusing on our successful academic program," stated Tracie Clifford, program lead for NDT and QA/QC.
Clifford noted that other activities will be scheduled with ASNT throughout the year. Following the reorganization meeting, the Chattanooga Section of the American Society of Nondestructive Testing (ASNT) was officially formed, which was originally chartered in July 1951. An interim Board of Directors and Section Officers were balloted during the February 26, 2019 meeting for the remainder of the 2018-2019 program year.
For more information about the Non-Destructive Testing program at Chattanooga State, contact Tracie Clifford at (423) 697-5725 or email tracie.cliffford@chattanoogastate.edu.