Chattanooga State Celebrates Student Success
May 30, 2019 | | Internal Press Release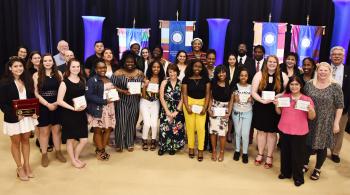 Families and friends gathered together at Chattanooga State Community College to celebrate the shared successes of students, faculty, and staff as the academic year recently drew to a close. Hats Off to Excellence honors those individuals who excel not only academically, but through dedicated persistence. Award categories include outstanding students who attained 4.0 GPAs, division and department, club and organization, advisor of the year, Eye of the Tiger, and two very special awards: The Debbie Waggoner Above and Beyond Award and the President's Award.
Marsha Barker, advisor to the C.A.D.R.E. Adult Student Club was selected as Advisor of the Year.
Only organizations that have received platinum status within the Steps to Success awards program are eligible to receive the Student Organization of the Year award. This year, the Veterans Club was selected as the recipient. Troy Garcia served as club president for the 2018-2019 year.
The will to endure is the key word when choosing students to receive the Eye of the Tiger award. These students are well known on campus and recognized for their success despite difficult situations: Hallie Parker, Mary Kate Pritchett, Mohamed Yahya, Tracy Nguyen, Benjamin Rankin, and Kayla Nunn.
Named as TCAT Student of Year was Nicole Wingo and Jim Fry was named Chattanooga State Student of the Year. Jim also was recently named Community College Student of the Year by the College System of Tennessee and was the keynote speaker at the 2019 Commencement exercises on May 4.
Debbie Waggoner left an indelible impact on students, faculty, and staff alike before she lost her battle with cancer. The Debbie Waggoner Above and Beyond Award was established to honor her legacy and student advocacy work. Each year, the Student Government Association names a faculty or staff member who, like Debbie, goes "above and beyond." This year's honorees included TCAT's Houston Graham, HVAC/R instructor, and Elizabeth Norell, assistant professor of political science.
The President's Award is presented to a student, or students, who have demonstrated positive contributions to Chattanooga State through their academic achievements, involvement in campus life, contributions to the campus community or through their service to the community surrounding Chattanooga State. In 2019, the two students honored for their impact were Jim Fry, Community College Student of the Year and Gabrielle Eilf, Student Government Association vice president.
Summa cum laude, or 4.0 students, included: Dannielle Ahleman, Roman Arreloa, Stephen Black, Jaclyn Castleberry, Ezri Davis, Andrew Dorris, Jessica Everett, Randi Fisher, James Fry, Brayden Grant, Caroline Haas, Amy Haddock, Ashton Hardeman, Lucille Harlow, Megan Holloway, Regan-Lea Jenkins, Andrew Jones, Danielle Kaminski, Courtney Kile, John Hewitt King, Kristen Knopick, Caroline Lee, Casey Lomber-Gorden, Richard Martin, Kathy Melton, Cynthia Miller, Jarred Moore, Steven Morden, Tatum Morgan, Alexis Mullins, Benjamin Narowold, Jaclyn Nelson, Joel Newsome, Shelby Penning, Michael Phares, Naveena Priestley, Deana Prok, Whitney Qualls, Rosemary Reid, Olivia Rekoske, Stephen Ricketts, Jon Rowland, Arielle Scalioni, Bailey Scott, Marguerite Stegall, Jonathan Stewart, Abbey Sutherland, Billie Sutton, Patrick Swingle, Kenneth Turner, Kurt Vandergriff, Jacob Wagner, Ariel Warner, Stephanie Willoughby, and Olivia Wright.
Academic Division Excellence awards: Hanna Million, Business; Courtney Kile, Engineering and Information Technologies; Emma Denmark, Humanities and Fine Arts; Tiffany Harvey, Math and Science; Tyler Hartmann, Nursing; Olivia Wright, Allied Health; Samantha Burger, Social and Behavioral Sciences.
Business Division departmental awards: Megan Barclift, Nolvy Taylor, Destiny Prince, Hannah Speciale, Zakary Hart, Tasia Cooter, and Jaclyn Castleberry.
Engineering and Information Technologies departmental awards: Ricky Roberts, Lechere Neou, Katy Dodd, Amund Fleming, Anthony Klompien, Joseph Polchek, Destiny Watts, Justin Brown, Mark Steed, Courtney Kile, Jacob Hutchings, Michael Nelson, Derrick Thrailkill, Sarah Park, Theodore Tolman, and Callan Pierson.
Humanities and Fine Arts departmental awards: Oscar Morales, Grace Wright, Autumn Seals, Alaina Hill, Robert Steely, and Samuel Talley.
Math and Science departmental awards: Kelly Hairrell, Tiffany Harvey, and Hae Soo Kim.
Nursing and Allied Health departmental award: Katie Hamrick.
Social and Behavioral Science departmental awards: Morgan Davoren, Scott Porter, Leslie Eselgroth, Ashlyn Baker, Matthew Graham, Patrick Childress, Trey Forrester, Patricia Speck, Sarah Crumbley, Donovan Higdon, Gabrielle Eilf, and Erika Winn.
The Hamilton County at Chattanooga State Collegiate High program recognized Valedictorian Hannah Rollins and Salutatorian Stephen Ricketts as its top students.
With more than 40 clubs and organizations on campus, choosing outstanding students from the hundreds of members is a daunting task. Congratulations to the following winners: Ambassadors: McKenzie Bramlett & Gabrielle Humble; BOSS: Mohamed Yahya & Paulina Detherow; C.A.D.R.E.: James Fry & Emanuel Jinks; Cheerleaders: Aaronish Ross & Tamar Fortson; Communicator: Abagail Johnson & James Wright; Diversity Club: Tracey Paxton & Paulina Detherow; FCA: Brooklyn Sullivan & Danielle Golden; Fitness Leaders Club: Stephen Arnold  & Ethan Bowers; History Club: Matthew Gellman & Bridget Reed; IM Rec: Azia Houser & Shaunice Parker; IT HUB: Alan Eady & Jonathan Rogers; Lead Involvement Team: Destiney Bush & Kijana Gibbs; LASO: Natalie Sedeno & Michael Vargas; Media Club: Sydney Matthews; Music Club: Jasmine Burgess & Jordan Davis; Pharmacy Club: Katie Terry & Heather Calderaro; Psychology Club: Tyler Gentile & Taryn Young; PTK: Jenna Roberts & Leanna Harmon; Science Spectacular Club: Tiffany Harvey & Naveena Priestley; SGA: Alicea Kulesza & Gabrielle Eif; Spanish Club: Olvia Avans & Anthony Tello; Umbrella Club: Amber Gridley; Veterans Club: Troy Garcia & William Flegal; Veterinary Technology Club: Kenneth Turner & Caroline Haas.
For more information about Chattanooga State, visit chattanoogastate.edu.