Chattanooga State Celebrates '29 Days of Thanks & Giving' Success
December 15, 2022 | Betty A. Proctor | Internal Press Release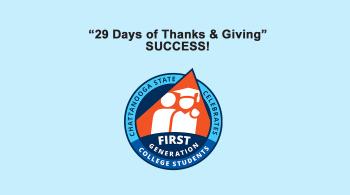 December 15, 2022 (Chattanooga, TN) --- After pausing its usual Dinner of Firsts event in the fall of 2022, Chattanooga State Community College was concerned about the first generation students who were still in need of financial support and developed a special fundraising event named "29 Days of Thanks & Giving."
During this special event, a total of $54,560 was raised for the Tom Edd Wilson First in the Family Endowed Scholarship, thanks to presenting sponsors First Horizon Foundation and Morning Pointe Senior Living, along with other sponsors and donors. This scholarship provides financial assistance to Chattanooga State first-generation college students.
With support from community partners and sponsors, ChattState's "29 Days of Thanks & Giving" celebrated first generation college students with a month-long social media campaign featuring "Meaningful Mondays, Testimonial Tuesdays, Where Are They Now Wednesdays, Throwback Thursdays, and Fun Fridays." Each themed weekday provided video clips, photos, testimonials, and thanks from students, alumni, faculty, staff, community partners, and sponsors who were first generation college students themselves.
To celebrate National First Gen College Student Day on November 8, ChattState held a special "Coffee and Conversation" community event featuring a panel discussion of personal experiences from local leaders, many of whom are first-generation alumni and graduates. The event was free and open to all students, employees, and the public.
Over the past 11 years Chattanooga State's Dinner of Firsts and the Dinner of Firsts Unevent have raised more than $655,000 for First in the Family Scholarships. The Tom Edd Wilson First in the Family Scholarship is currently endowed at $270,314, and $384,790 has gone to the annual First in the Family Scholarship. Scholarships have been awarded to 252 students in 33 different majors.
Chattanooga State Community College welcomes thousands of students to its campus each semester, and approximately one out of every four students identify as first-generation college students. Click here to learn about some of the extraordinary students who were highlighted throughout November or to watch the panel discussion.