Chattanooga State Awards 1,600+ Degrees & Certificates
May 9, 2018 | Betty Proctor | Internal Press Release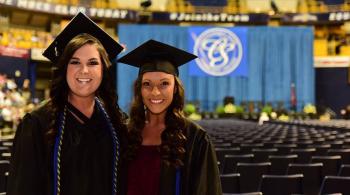 Chattanooga State Community College held its 52nd Annual Commencement exercises on Sunday, May 6, awarding more than 1,600 degrees and certificates to 1,500-plus graduates. 
The Class of 2018 ranged in ages from 17-75 and included 371 students graduating with honors and 338 graduating Tennessee Promise students. Sixty-three percent of graduates are female; 37 percent are male while 42 percent are over the age of 25. Sixteen international countries were represented.  
Chattanooga State alum Gary Ainscough presented the 2018 Commencement address. Mr. Ainscough, a member of Chattanooga State's inaugural graduating class of 1967 and a current Alumni Association Board member, said during his Commencement Address, "Consider us as family members. Stay in touch. Return for visits."
Marking her first Chattanooga State Commencement as president, Dr. Rebecca Ashford shared encouraging words with the Class of 2018: "I hope you continue to push yourselves, to learn more, and to be more than you ever thought possible."
Hamilton County Collegiate High at Chattanooga State had 53 high school graduates with a number of college-credit courses completed while 17 of these graduates also earned enough credit to receive an associate degree. Collegiate High is a five-year Tennessee Reward School for outstanding performance.
Student Government Association President Courtney Scott, a member of the Class of 2018, advised her fellow classmates: "…though we may be doubtful, we are prepared. And though we may be leaving today, we are ready. We set standards, we raise bars, and we exceed expectations, because that is what Chattanooga State has pushed us to do and that is what we will continue to do. Today we have proven to ourselves that we cannot be stopped from achieving our goal."
Also recognized during commencement this year were Faculty Fellows: Evelyn Mobley, Michael Waterson and David Wollert, Dr. Gladys Crates Fellows; Joel Henderson and Ken Cardillo, Amanda Wynn Fellows; Leesa Ross, Dr. Howard Yarbrough Fellow.
Faculty and Staff Excellence Award Winners: Julie Bennett, Professional Staff; Antoinette Dobbs-Taylor, Support Staff; David Burgess, Teaching Excellence, TN College of Applied Technology; Michael McCamish, Excellence in Advising; David Wollert, Faculty Excellence in Teaching.
Retiring Faculty and staff for 2017-18 include: Rebecca Cantrell, Philip Cioni, Joan Couvillon, Teresa Curl, Darlene Florence, Cynthia Hammond, Donnie Hardy, Judith Harper, Garry Holland, Don Hunt, Judy Mabe, Diane Norris, Claire Peacock, Ronald Peck, Deborah Rudd, George Ryan, Ann Schide, Gloria Sines, David Stanislawski, Brenda Stocker, Kenneth Storrs, Lisa Swift, Pamela Temple, Louie Thompson and Margaret Venable.
To view the entire commencement program online, see https://www.youtube.com/watch?v=MpFiOnt1_8Y
Chattanooga State Community College consistently offers a high-quality education with an 18:1 student-to-teacher ratio, 97 percent job placement rate, and 98 percent licensure pass rate. For more information, visit www.chattanoogastate.edu.