Chattanooga State Announces New Articulation Agreement with TWU
May 27, 2022 | Betty A. Proctor | Internal Press Release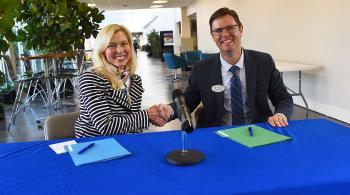 May 27, 2022 (Chattanooga, TN) --- Chattanooga State Community College announces a new articulation agreement that will allow students enrolled in their Criminal Justice Associate of Applied Science (AAS) program to seamlessly transfer to the Bachelor of Science in Professional Leadership in Criminal Justice program at Tennessee Wesleyan University (TWU).
Dr. Rebecca Ashford, president, Chattanooga State, and Dr. Grant Willhite, vice president for Academic Affairs, who was representing Dr. Harley Knowles, president, Tennessee Wesleyan University, made the agreement official with a formal signing ceremony on May 27, 2022.
"Tennessee Wesleyan University is proud to partner with Chattanooga State Community College to assist adult students in the completion of their bachelor's degree in criminal justice," said Dr. Willhite. "Never has it been more important to provide criminal justice professionals opportunities to further their education and expand their career opportunities."
Students wishing to transfer credits to TWU for this degree must have completed all graduation requirements for Chattanooga State's Criminal Justice AAS degree and must meet admission requirements for TWU.
"It is so important for Chattanooga State graduates to have quality educational pathways that lead to meaningful careers and prosperous futures," stated Dr. Ashford. "The articulation agreement I signed today with TWU creates a solid pathway for our criminal justice graduates."
For more information about this opportunity, call the Academic Advising Office at (423) 697-2456.