Chattanooga State Announces Free Computer Skills Workshop for Senior Citizens
November 3, 2021 | Betty A. Proctor | Internal Press Release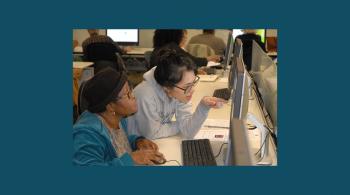 The Computer Information Technology (CIT) department at Chattanooga State Community college will offer a free computer skills workshop for senior citizens on Thursday, November 11 from 12:30 to 3:30 p.m. in the Center for Engineering, Technology, Arts & Sciences (CETAS) building, room 124.
This popular workshop provides one-on-one computer skills training for senior citizens to bridge the digital gap by helping seniors feel more connected and to decrease isolation. The "Cyber Seniors" workshop is an on-campus service-learning project presented by Savitha Pinnepalli, CIT department head, and IT Hub Club students. Hub Club students act as mentors and are paired with participants to identify their current level of technology skills before providing customized training for each participant.
Student tech mentors show seniors how to anticipate online threats, recognize dangers, and ways to stay up to date on the latest changes in cybersecurity and navigating websites, while instructing participants about online safety. They also learn how to avoid online scams and how to protect themselves if they have been scammed with resources from the Cybercrime Support Network. Upon completion of the workshop, participants receive a certificate of completion.
Previous participants commented on the most useful training activities, which included the importance of strong passwords and protecting your security, learning more about Microsoft Word, cookies, and the internet in general. Several attendees mentioned they would like to learn more about social media and YouTube at future sessions.
Online registration for Cyber Seniors: Computer Skills Workshop is now open. For more information, or to register with assistance, contact Ms. Pinnepalli at (423) 697-4756 or email Savitha.pinnepalli@chattanoogastate.edu.