Chattanooga State and Volkswagen Chattanooga Mark 10-Year Anniversary
February 2, 2021 | Betty A. Proctor | Internal Press Release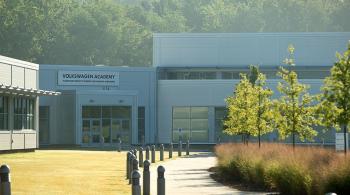 In 2008, when the Volkswagen Group announced 'It's Chattanooga' as its choice for their newest automobile assembly facility, Chattanooga State Community College was ready. Volkswagen's strong commitment to education led to a Volkswagen/Chattanooga State collaboration, culminating in a new training facility at the plant named the Volkswagen Academy (VWA), home to the secondary and post-secondary mechatronics training programs.
In the spirit of continuing collaboration, Volkswagen Group of America-Chattanooga Operations and Chattanooga State Community College announce their 10th anniversary to commemorate a continuing educational partnership.
"We at Chattanooga State are incredibly proud of our 10-year partnership with Volkswagen Chattanooga," stated Dr. Rebecca Ashford, Chattanooga State president. "VW plays such an important role in our community as they provide good jobs and careers for thousands of community members. We are proud to play a part in training VW's workforce and providing a bridge to a prosperous future for members of our community."
The Automotive Mechatronics Program (AMP), established in 2010, was developed as a partnership between Chattanooga State and the Volkswagen Group of America-Chattanooga Operations, followed by the Car Mechatronics Program (CMP) in 2012. These one-of-a-kind three-year programs were housed at VWA and offered students a comprehensive learning environment that blended classroom and laboratory instruction with paid, on-the-job training experience in the Volkswagen assembly plant. Recently, the AMP program transitioned to the Robotronics Technology Expert (RTE) program, a shorter, two-year program that focuses on Robotics and Industry 4.0 concepts.
In 2011, Volkswagen Chattanooga and Chattanooga State Community College sealed their partnership with an official Memo of Understanding (MOU) signifying their unified commitment to education in the Tennessee Valley. A new MOU was signed between Chattanooga State and Volkswagen Chattanooga, marking ten years of continued partnership and excellence in December 2020. Over the past ten years, 130 students completed the various apprenticeship programs and were offered jobs by Volkswagen Group of America.
"Part of securing our future is investing in workforce development, from attracting new talent to training our existing team members in new technologies such as electric vehicles, high voltage battery technology and robotics," said Burkhard Ulrich, SVP of Human Resources for Volkswagen Chattanooga. "Our educational programs in partnership with Chattanooga State Community College attest to our ongoing commitment to training and development. Chattanooga State has remained our educational partner for the past 10 years, and we are honored to continue our successful apprenticeship program with them in our community."
Volkswagen Academy is now actively recruiting students for the fall 2021 RTE apprentice cohort. To learn more about VWA, visit volkswagengroupofamerica.com/en-us/volkswagen-academy.