Chattanooga State and South College Sign Articulation Agreement
January 12, 2018 | Betty Proctor | Internal Press Release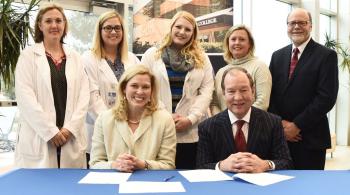 Dr. Rebecca Ashford, president of Chattanooga State and Mr. Steve South, president of South College, signed an articulation agreement between the two institutions on January 9. This articulation agreement will guarantee qualified students enrolled in Chattanooga State's Pre-Pharmacy classes an interview with the School of Pharmacy to pursue a Doctor of Pharmacy degree. The agreement becomes effective immediately for Chattanooga State students who want to apply to the School of Pharmacy. South College is accredited by the Southern Association of Colleges and Schools.
"Articulation agreements like this one with South College provide pathways for our students to continue their education after leaving Chattanooga State. With this articulation agreement, our Pre-Pharmacy students can transfer to South College and complete their doctor of pharmacy degrees in just a few short years," stated Ashford.
"We are very pleased to enter into this articulation agreement and new partnership between our two institutions. This agreement facilitates the process of Chattanooga State Community College students seeking admission to the Doctor of Pharmacy (PharmD) program at South College. Among other benefits, the articulation agreement guarantees qualified Chattanooga State students an interview with the School of Pharmacy," said South.
"This articulation agreement is ideal for a community college and its students because the coursework required before entry into the PharmD program can be completed in just two years. And because the South College PharmD program is an accelerated three-year program, five years after beginning at Chattanooga State it is possible for a student to become a licensed pharmacist," said Dr. Walter Fitzgerald, Dean of the School of Pharmacy.
Chattanooga State offers students two programs to pursue a career in pharmacy. The College's 12-month Pharmacy Technician training program was founded in 1996 and is accredited by the American Society of Health-Systems Pharmacists. Certified Pharmacy Technicians are experiencing an unprecedented demand. It has also been a feeder program for Pre-Pharmacy. Numerous graduates of the pharmacy technician program continue their education by taking pre-pharmacy classes on campus and applying to pharmacy schools. Many of our graduates are pharmacists in the local community and serve as mentors for current students.
About Chattanooga State: Founded in 1965, Chattanooga State is a regionally accredited comprehensive community college in the Tennessee Board of Regents System serving a 13-county area offering credit programs leading to AA, AS and AAS degrees, technical and embedded technical certificates. The TN College of Applied Technology division offers one-year diploma and certificate programs. Enjoying the largest engineering technology, health science, and applied technology programs in the statewide system, as well as strong corporate training activity to help provide a highly skilled technical workforce, Chattanooga State has a 96 percent job placement rate. Using TN Promise, recent high school graduates, and adults without a college degree using TN Reconnect, can enroll in community or technical college, tuition-free.
About South College: South College is a regionally accredited private co-educational, non-sectarian academic institution with non-residential campuses in Knoxville and Nashville, Tennessee and Asheville, North Carolina. Students can pursue academic programs at all levels, including professional certificates and associate, bachelor's, master's, and doctoral degrees.