Chattanooga State and Bryan College Sign Transfer Articulation Agreement
November 3, 2021 | Betty A. Proctor | Internal Press Release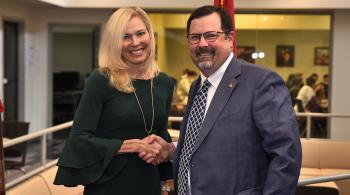 Dr. Rebecca Ashford, president, Chattanooga State Community College and Dr. Douglas F. Mann, president, Bryan College today signed a transfer articulation agreement between the two institutions. The academic alliance allows the transfer of earned degrees, Associate of Science (AS), Associate of Arts (AA), Tennessee Transfer Pathway (TTP), and Associate of Applied Science (AAS) in any discipline, and related transfer credit from Chattanooga State to Bryan College.
Students with the aforementioned qualifying degrees will be admitted as juniors upon entering the bachelor's degree program at Bryan College. Official transcripts will be required for transfer of credit. Information about the bachelor's degree programs may be viewed here.
"The work we do at Chattanooga State transforms our students' lives through education. Having this transfer agreement in place with Bryan College is one of the many ways that we enable our students to learn without limits," said Dr. Ashford.
Founded in 1930, Bryan College sits on a 125-acre wooded hilltop in the Tennessee Valley community of Dayton, Tennessee. Bryan College is an independent, coeducational, Christian liberal arts college named for William Jennings Bryan (1860-1925), a prominent statesman in American political life. Bryan College seeks to assist in the personal and professional development of qualified students by providing an education based upon an integration of the Christian faith with academic programs.
"Success in life is dependent upon gaining the tools which allow you to understand your discipline of study, think clearly and creatively, and articulate your ideas in an effective way," stated Dr. Mann. He noted that Bryan College and Chattanooga State share many of the same common values. "We are so excited to partner with a great school like Chattanooga State and I think that today's ceremony illuminates that partnership. We are very proud of this long-standing relationship."
Chattanooga State students who may wish to transfer to Bryan College following graduation should speak with their advisor for a clear understanding of the process involved.