Chattanooga State Adds Fun, Flavorful, Welcoming Café Atmosphere
October 19, 2020 | Betty A. Proctor | Internal Press Release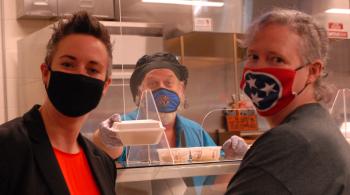 As Chattanooga State's new director of Food Services, Caroline Couch began her love affair with food began more than 20 years ago. "In 1999, I started working in the restaurant industry while attending East Tennessee State University as a student," states Ms. Couch. She further developed her culinary and leadership skills in the Atlanta and Chattanooga markets. "I had the pleasure of working with great chefs who taught me that food is an art – you must respect it and treat it with love." Caroline's philosophy is that each patron who walks through the door is a VIP, and she instills that same philosophy in her team.
While busy experimenting with her own ideas and menu offerings, Ms. Couch is also listening to and learning from the students and employees at ChattState. Caroline pays close attention to monthly and daily food "holidays" celebrated by Restaurant World and focusing on creating a fun yet healthy atmosphere that guests love to keep them returning for more.
"Caroline and her team all show a genuine enthusiasm for making a visit to the café enjoyable, from friendly service to 'selfie' contests," shares Leasa Summey, executive assistant to the president. "I went for the food but came back for the people … and the food (wink)."
Even though Caroline pays attention to restaurant industry digests that highlight what foods are "hot" right now, she also looks to her own ChattState family for ideas. "My food service cooks have their own great ideas and recipes that are delicious, and they just needed an outlet to share their favorite recipes with ChattState."
Chattanooga State offers the same hot bar options in the Omniplex and CETAS café locations. Caroline says that focusing on healthy options and quality offerings includes, "Purchases of fresh fruit, creating a variety of salad options made fresh every morning, gluten free bread, and more "fresh cut" vegetables spruced up with an array of seasonings for quality taste vs. frozen."
"Caroline always has a cheerful attitude and a strong detail to service when I have visited the cafeteria," notes Cindy Sherlin, Math and Science division secretary, "And I appreciate the fact that food options have become more enjoyable and healthier."
Because foot traffic on campus has been lower due to the pandemic, Ms. Couch provides signage and communicates with the campus community through daily emails announcing café specials and prices. "We offer a variety of food options and cater to vegans, vegetarians, meat lovers, fried food lovers and everyone in between," notes Caroline. "And we schedule selfie picture contests with prizes to encourage a fun, friendly, and welcoming environment!"
Ms. Couch states that one of the most popular offerings is Southern Soul Foods. "Fried chicken, cornbread, mashed taters, etc. have proven to be the best special that brings the ChattState family to the "table.
Chattanooga State cafés are open Monday through Friday from 7 a.m. to 11 a.m. for breakfast and 11 a.m. to 2 p.m. for lunch. Both cafés accept cash, and debit/credit cards with a $2 credit/debit minimum purchase required. "I also take in special requests from our faculty and staff," remarks Ms. Couch. "Through conversations, I've discovered that people have certain types of favorite foods and I like to implement those in my cafés, because after all, we're here for you!"