Card-Monroe Corp. Manufacturing Lab Dedicated
February 13, 2019 | Betty Proctor | Internal Press Release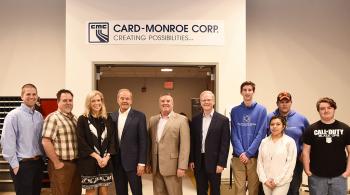 President Rebecca Ashford officially welcomed local dignitaries, Card-Monroe officials, faculty, staff, and students on February 6 as Chattanooga State Community College recognized the Card-Monroe Corp. for its generous $100,000 donation to the Chattanooga State Foundation. This gift helped to equip a state-of-the-art learning lab designed to provide hands-on training for current and future students at Chattanooga State. The new Card-Monroe Manufacturing Lab is housed in the college's Center for Engineering, Technology, Arts & Sciences (CETAS) building.
"We think partnerships with places like Chattanooga State have made us successful by providing to us employees who have come in and been a part of the CMC success, and we are so thankful for the long-lasting relationship we have here at Chattanooga State and for your training of the future employees for manufacturing," stated Brad Card, president, Card-Monroe Corp.
Addressing Polytech Academy students who will benefit from the new Card-Monroe Lab at Chattanooga State, Vice President of Operations at Card-Monroe Allen Neely said, "I am a graduate of a vocational education program, and skilled training allows us to be a provider when you are ready to have a family. The labor market is short, and skilled labor is in super high demand. There are good paying jobs and work in a lot of different industries. Our partnership is strong with Chattanooga State in all areas, and we are excited to see what happens with Polytech and excited about the new pathways for students."
Card-Monroe Corp. is the world leader in tufting technology.
Chattanooga State has the largest engineering technology programs in the statewide system, as well as strong partnerships with businesses and industry. For more information, call the Engineering & Information Technologies Division at (423) 697-4434.