Borderlands: The Land Between and the Finding and Creation of Self
February 18, 2019 | | Internal Press Release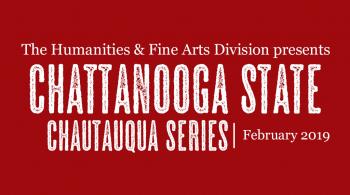 The Humanities and Fine Arts Division of Chattanooga State Community College will host the fourth installment of its 5th annual Chautauqua Lecture Series on Thursday, February 21 at 2:00 p.m. in the Humanities Auditorium on Chattanooga State's main campus, with a dessert reception to follow. 
In 1874, people gathered on the shores of Chautauqua Lake in New York State to enjoy speakers, teachers, musicians, and specialists who entertained and educated members of the community, thus catalyzing an adult education movement that subsequently spread throughout rural America. Since 2014, Chattanooga State has hosted its own monthly Chautauqua to unite faculty, students, staff, and the larger Chattanooga community in exploring a wide array of topics within the Humanities. This year, Chattanooga State's Chautauqua Series features the informative and unique research of seven Humanities & Fine Arts faculty as well as the series finale with Writers@Work 2018-2019 visiting authors Beth Ann Fennelly and Tom Franklin. 
This month's lecture features Professor Katheryn Thompson, who will present "Borderlands: The Land Between and the Finding and Creation of Self." The concept of the borderland has had a tremendous impact in Chicano literary theory, but also in other areas. Join Professor Thompson as she connects Gloria Anzaldúa's concept of the threshold between two worlds with broader literary and social contexts, such as the college student's educational journey, and the personal negotiation of one's own identity.
A self-described "bibliophile," Thompson sees the relevance of Anzaldúa's "borderlands" across a wide range of literary texts and notes that scholars have recognized "that it functions in all kinds of immigrant literature as well as in the literature produced in former colonial areas."  Thompson goes on to explain that in addition to Chicano literature, other works like Moby Dick, The Scarlet Letter, and The Last of the Mohicans bear witness to characters and authors who "straddle the boundary" between two cultures or places in order to "create for themselves a unique identity."
Following Thompson's February lecture, Assistant Professor Eric Niemi will present in March on "Playing with Rituals: How Board Games Impact Culture." The final installment in the 2018-2019 Chautauqua Lecture Series will be a special event offered in partnership with the Humanities Department's Writers@Work program, entitled "Writers@Work: The Art and Craft of Writing." During this session, the 2018-19 Writers@Work visiting authors, Beth Ann Fennelly and Tom Franklin, will discuss their writing process, their collaboration on the novel The Tilted World, and the art and craft of writing. 
WHEN: 2-3 p.m., February 21, March 21, and April 11.
WHERE: Humanities Auditorium, Chattanooga State Main Campus, 4501 Amnicola Highway.
COST: Free to all members of the public.
FOR MORE INFORMATION: Facebook: "Chattanooga State's Chautauqua Series"; Instagram: "chautauqua_series"; Twitter: "@ChautauquaSeries"; Email: keri.lamb@chattanoogastate.edu.