BlueCross Leaders Meet Chattanooga State Minority Accounting Scholar
July 25, 2019 | | Internal Press Release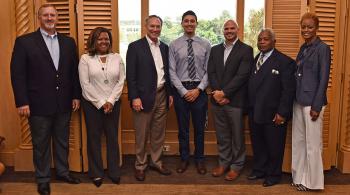 BlueCross BlueShield of Tennessee leaders recently gathered at Chattanooga State Community College to meet the latest recipient of Chattanooga State Foundation's BlueCross BlueShield of Tennessee Minority Accounting Endowed Scholarship.
The scholarship was established in 2016 by the BlueCross BlueShield of Tennessee Foundation to improve diversity in the high-demand field of accounting. This year's recipient, Chattanooga State student Andrew Caldron, was grateful to be able to personally thank the BlueCross leaders who helped make the scholarship possible.
"Thank you so much for providing this scholarship," said Andrew. "It was a huge help to me as I pursue my degree without additional worries because of your investment in my future."
During the visit, BlueCross leaders shared their personal college and career pathways with Andrew, offering him encouragement for the future. Three of the representatives, Rosalyn Barnes, John Giblin, and Trey White, proudly shared how they started their post-secondary education at a community college.
Photo (l-r): Dennis Culver, Vice President, Treasurer and Chief Risk Officer; Rosalyn Barnes, Diversity Consultant; John Giblin, Executive Vice President and Chief Financial Officer; BlueCross BlueShield Scholar Andrew Caldron; Trey White, Vice President, Controller and Chief Accounting Officer; Ron Harris, Vice President of Diversity & Inclusion; and Leta Gibbs, Principal Consultant of Workforce Diversity.