Baseball Pancake Fundraiser is January 26
January 24, 2019 | | Internal Press Release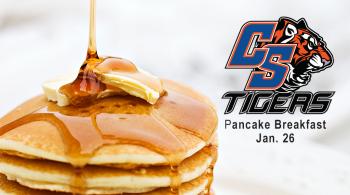 The public is invited to come out and enjoy the Annual Pancake Breakfast fundraiser hosted by the 2019 Chattanooga State baseball team in the Albright Omniplex cafeteria on Saturday, January 26 from 9 a.m. till 11:30 a.m. Members of the baseball team will greet and serve the breakfast. Tickets may be purchased at the door for $5 per person or by contacting Greg Dennis in advance at (423) 697-2418. 
"This is a great way to help 'kick off' the 2019 Baseball season with us," states Head Coach Greg Dennis. "We will be hosting the nationally-ranked Bryan College baseball team for a scrimmage at 1 p.m. on the ChattState field and will open up the season the following Friday at Georgia Highlands College," he adds.
Following the scrimmage on January 26, the schedule includes eleven non-conference games throughout February. Conference play begins March 1. "We are excited about the prospects of another successful campaign!!" exclaims Dennis.
The 2019 team is made up of 24 young men from Tennessee, Georgia, Kentucky, and New York in addition to international players from Canada, Columbia, and Australia. For complete baseball information, call (423) 697-2418 or visit www.chattanoogastate.edu/athletics/baseball.