From Chattanooga State Student to Community College Executive
December 14, 2022 | Betty A. Proctor | Internal Press Release, Student Success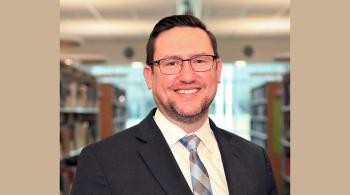 December 14, 2022 (Chattanooga, TN) --- As a first-generation student from a working-class family, Rob Steinmetz had no clear plan for college when he spied the green directional Chattanooga State highway sign on Interstate 75 and decided to follow it to the campus. Little did Rob realize that fate had just played its hand.
Rob's immediate impression of Chattanooga State was such a positive one that he enrolled at the last minute and never looked back. "After being an average high school student where I was bullied and never felt like I fit in, I got 'straight As' my first semester at ChattState and that really defined my love for learning and passion for community colleges," commented Dr. Steinmetz, who now serves as the executive vice president of College Services and Student Affairs for Connecticut State Community College in New Britain Connecticut. "I could have succeeded or failed during my first semester but my ChattState experience forever altered the trajectory of my life." It was also during his time as a student that Rob came out as gay. He felt a great deal of anxiety about how it might have impacted his ability to remain a student leader and then in his ability to be a staff member. "It is not a small thing that I was never made to feel that is wasn't okay that I was openly gay, particularly during the late 90s and early 2000s in the south," shared Steinmetz.
Before earning his Associate of Science degree from Chattanooga State in 1998, Rob enthusiastically dove into college life, serving as the Student Activities student board president and also as a student worker in the Student Life Department. "I found an accepting, caring and challenging environment that helped me grow in confidence and inspired a passion for learning and leadership ability," stated Steinmetz.
One of Rob's most memorable experiences at ChattState was helping to coordinate a weekend-long off-site leadership retreat event where students learned more about becoming effective and caring leaders. "It set the foundation for what became an amazing year of collaboration and growth for a large group of student leaders," stated Steinmetz.  "It was also the event that cemented my decision to dedicate the rest of my career to supporting students at community colleges."
Dr. Steinmetz recalled two of his most impactful mentors at ChattState: Sandy Rutter, (then Kluttz) dean of students, and the late Consuelo "Connie" O'Neal, then vice president for Student Affairs.
"Sandy helped me grow in incalculable ways, providing opportunities to me as a student and then staff member that allowed me to start this journey as a community college leader," stated Steinmetz. Rutter remembers that Rob did an amazing job as both a student and staff member. "Rob coordinated student activities and focused on education, social responsibility and diversity," recalled Mrs. Rutter. "Rob was well respected and loved by everyone, and if there was an entertainer that did not show up, I could always count on Rob to 'be the show' because he could do comedy, act, and was always personable as well as entertaining."
Remembering Mrs. O'Neal, Dr. Steinmetz called her the greatest mentor of his life because of how much she cared about people and how dedicated she was to every student at ChattState. At the time, Steinmetz was more process oriented and O'Neal helped him re-center himself on people. Her example of people-centered leadership impacted his growth and pushed him to become more of a servant leader by suggesting he slow down, include others, and learn to compromise based on different perspectives. "I became a vice president for Student Affairs shortly before Connie passed away and I am grateful that I got to see her one last time to express that she was the reason I became a chief student affairs officer like her," said Dr. Steimetz. "Her constant loving support and advice continues to guide me, and I still think of her every day."
Dr. Steinmetz holds a bachelor's degree in Sociology and a master's degree in Public Administration from the University of Tennessee, Chattanooga. He earned his Doctor of Education degree in Higher Education Administration from the University of Alabama. Besides serving Chattanooga State, he served in executive positions at community colleges in Alabama, Pennsylvania, and Oregon, before settling in New Britain, Connecticut.
Chattanooga State—Start Here, Go Anywhere.