Chattanooga State Recognizes Student Excellence
June 20, 2022 | Betty A. Proctor | Internal Press Release, Student Success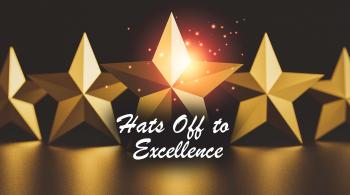 June 20, 2022 (Chattanooga, TN) --- Chattanooga State Community College recently recognized students for excellence during its annual Hats Off to Excellence ceremony. In addition to academic and departmental awards, outstanding students involved in campus clubs and organizations, and awards for distinguished service were presented.
Forty-eight students earned a perfect 4.0 grade point average (GPA), completed at least 40 credit hours at Chattanooga State with a 4.0 GPA at the end of the fall 2021 semester and were on track for May 2022 graduation. 4.0 Students recognized included Samuel C. Andrews, Mia Apple, Alison Branum, Brady W. Bright, Sydney P. Brown, Mindy Chen, Kenneth J. Coleman, Karla L. Cross, Stephan R. Demilt, Jacob E. Evatt, Jaden S. Ezell, Levi M. Farber, Caleb A. Fowler, Katherine F. Goodwyn, Matthew C. Hadden, Amber P. Hensley, Andrew H. Hicks, Lydia M. Hinchman, Savannah W. Kelso, Macy A. Kesley, Hannah N. Lindley, Maleah T. Liptak, Vivian J. Long, Stephanie B. Lopes, Megan M. McClure, Chris B. McGill, Emerson B. McKenzie, Danyela J. Mercado, Amelia M. Meunier, Ladale T. Miller, Rebecca A. Musgrave, Jaclyn M. Nelson, Zennia A. Nesmith, Dustin Noel, Genevie L. Owen, Kimberly A. Patterson, Jessica J. Patton, Jordan L. Rattanavong, Emery M. Rutledge, Maya G. Scribner, Vivian Song, Jessica L. Swafford, David Tyler, Erin D. Wade, Colleen E. Wainright, Gabrielle A. Whipple, Lilly L. Wright, Jordan D. Zink.
Students recognized with Club and Academic Awards included:
BUSINESS: Colyn Jones, Conor Mast, Rebecca Mendez, Hunter Morgan, Maximillian Seiler, Ian Lewis, and Caleb Fowler.
ENGINEERING & INFORMATION TECHNOLOGIES: Roland Wilkerson, Gregory L. Shannon, Jennifer Stimson, Celia Hough, Christopher Miller, Zoe Travis, Jonathan Goodman, Deshiya Conner, Ian Kibby, Phinehas Rikard, Christopher Wilson, Hadee Hedrick, Alan Benjamin, James Cole Hixson, Noemy Torres, Jamaal Lundy, Quinn Martin, Jacob Evatt, Mouhamed Gueye.
HUMANITIES AND FINE ARTS: Violet DeCredico, Adam Tinsdale, Rachel Young, Madeline Meier, Vivian Long.
MATH AND SCIENCES: Brett Craig, Ryan McBride, Gabriella Beck, Levi Farber, Lance Isaac Rose, Grace Rose, Brooke Hale.
NURSING & ALLIED HEALTH: Charlie-Marie Joy, Christian Gaither, Breanna Baldwin, Hannah W. Witt, Kaitlin Botts, Christine Helle.
SOCIAL & BEHAVIORAL SCIENCES: Hunter Lyons, Chloelyn Langston, Brenda Dolmuz, Jennifer Cissell, Alice Goonetilleke, Megan Nicole Barrott, Brittnie Little, DeTavious Taylor, Laura Keely Farris.
Students involved in clubs and organizations are afforded many opportunities for career, social and leadership development. Not only are they involved in leadership on campus, but they are often asked to represent the college within the community that might include meeting with mayors, business leaders or the Governor. Club and Organization Award recipients included: Gabrielle Whipple, Jessie Lam, Carla Frizzell, Kimberly Patterson, James C. Rogers, Andrea Woody, Nike Reinke, Lusely Velasquez Perez, Maria Jacinto, Nicole Potgieter, Violet Credico, Ashlyn West, Jacob King, Zennia Nesmith, Laura Keely Farris, Ian Lewis, Lance Pilanga, Raven Robinson, Alisha Holland Frazier, DiMarco Haire, Kyndal Wilbanks, Abigail Brown, Ian Lewis, Lillian Simcox, Amberthest Wertanen.
Distinguished Service Awards were presented to students, faculty and staff.
Advisor of the Year: Ann Cho
Club of the Year: Veterinary Technology Club
Eye of the Tiger Awards are presented to students who have succeeded while persisting against difficult situations. Awardees this year included: Jes Reji, Jennifer Mendez Sandoval, Samantha Lynn, Zoie Gaines, Kristen Martin, Christopher Ryan Miller, Kaitlin Botts, Travis L. Carson, Ingrid Vicente, Kendra Anderson, Gabrielle Darnell, Kayla Phillips, Caleb George, Dana Vaughn, Joe Jenkins, Alyssa Wells.
Dr. Ed Nichols was the 2022 recipient of the Debbie Waggoner Above & Beyond Award, named after the late Debbie Waggoner whose battle with cancer took her prematurely, but not before she left a legacy of student advocacy. Debbie worked ardently on behalf of students, and as the award is named, she went "above and beyond" the call of duty.  
Zennia Nesmith and Laura Keely Farris were presented with the 2022 President's Award. Awardees have made a positive contribution to Chattanooga State Community College through their academic achievements, involvement in campus life, contributions to the campus community, or through their service to the community surrounding Chattanooga State.