Chattanooga State Celebrates Employee Service
June 23, 2022 | Betty A. Proctor | Faculty Spotlight, Internal Press Release, Staff Spotlight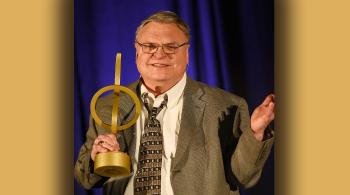 June 23, 2022 (Chattanooga, TN) --- Chattanooga State Community College brought back its fun-filled Chatty Awards celebrating employee service, following an unexpected three-year hiatus. As she opened the celebration, President Dr. Rebecca Ashford reminded everyone that 2022 was decidedly different, and that now "everyone knows your name." The stage darkened as music cued a "Cheers-themed" celebration and the audience were introduced to the "Cheers" regulars Peter (Sam) Kriener, Karen (Rebecca) Eastman, Angela (Carla) McClister, Doug (Cliff) Morris, Guy (Woody) Davis, and Ed (Norm) Nichols. As the Chatty awards progressed, the audience was periodically taken back to 80s music and commercials, as well as key moments from the "Cheers" series as players parodied moments from the last three years at Chattanooga State. The lighthearted skit was written by Dr. David Wollert.
The following employees were recognized for between five and forty years of service.
5 years: Reed Allison, Lori Anderson, Rebecca Aslinger, Tabitha Banks, Ian Beck, Angelina Blevins, Wanda Bramblett, Terrie Breetzke, Jonathan Brigner, Cynthia Brooks, Joshua Brown, Kathryn Brown, Jennifer Bryant, Jeremy Burchfield, Nikishia Burson, Joshua Carlisle, Tim Chastain, Lynn Chesnutt, Ann Cho, Keaira Colbert, Linda Coslett, Yolanda Cox, Bryant Cunningham, Shanitra Cunningham, Katie Davidson, Amanda Davis, Guy Davis, Beatty Delgado, Vicki Duncan, William Durham, Pam Ellison, Brian Evans, Randal Fosse, Wesley Foster, Stacey Franklin, Sheila Gholston, Corlan Green, Jessica Green, Mindy Griffin, Gene Harr, Nicholas Hartline, Tania Henson-Brooks, Carly Hixson, Jason Holcomb, Scotty Holland, Venita Howell, Kristin Hutton, Brenda Ingram, Lisa Jackson, Chad Jaynes, Talion Johnson, Joshua Johnson, Catrina Jones, Yonna Jones, Amanda Jordan, Ruth Kirkendall, Danielle Knowles, Mark Knutsen, Sandra Lambertino, Michael Largent, Jeff Lemon, Gardner Long, Hunter Longley, Jose Lopez Gonzalez, Chris Lykins, Tim Malone, Shannon Marsh, Sarah Mattson, Edward McCance, Carl Miller, Paul Morley, Doug Morris, Alyssa Moss, Eric Niemi, Liz Norell, Marcy O'Rourke, Robert Pace, Melanie Palmiero, Harsh Patel, Tena Phillips, Jade Pierce, Monika Prestwood, Rosa Ramirez, Jerry Roberts, Blair Ryan, Noman Saied, Jeffrey Schneider, Nancy Schurr, Jodi Seiber, Mollee Shannon, Kari Sherman, Michael Sliman, Jason Smith, Kelli Squire, Miranda Taj, Bill Taylor, Susan Thomas, Dexter Truss, Clomeisha Tumlin, Kristen Underwood, Dawn Steele, Wendell Walker, Patrick Ward, John Warren, Traci Williams, Amy Wynne.
10 years: Lori Barton, Charles Beck, Meridith Brown, Nancy Draper, David Burgess, Cheryl Byrd, Stacey Carter, Christine Conn, David Cooper, Robert Coulter, Charles Fannin, Phil Fortin, Houston Graham, Kelli Graves, Jeff Hanna, Dee Ann Harrington, Bill Heckathorn, Ken Henderson, Lindsay Holland, Michael Holsomback, Diane Jackson, Wes Jarrett, Melissa Johnston, Renee Kennebrew, Peter Kriener, Angela McClister, Rhonda McWhorter, Mike Mercer, Lindsey Morgan, Jeremy O'Brien, Sarah Page, Mark Palmer, Lisa Phillips, Debora Prytula, Michael Pugh, Michael Purkey, Nichole Rivers, Bryan Roach, Jeff Roberts, Caroline Rogers, Cynthia Rutledge, Catherine Schmurr, Jacqueline Smith, Doug Stier, Leasa Summey, Joshua Tucker, Allison Turnbow, Chris Willis, Amy Wilson, Jianfeng Zhang
15 years: Joyce Abbott, Shay Bean, Kyleen Beechum, Amanda Bennett, Shawn Brabham, Leander Burns, Jane Bustabad, April Crenshaw, Karen Eastman, Alison Fetters, Mosunmola George-Taylor, Reggie Griffin, Laura Howard, John Haworth, Anna Kent, Robin Marshall, Janelle McDonald, Gabriele Meyer, Charles Milligan, Chris Mobley, Robin Popp, Jay Price, Robert Prytula, Sherry Pulliam, Lori Robinson, April Royer, Tammy Sawyers, Tiffany Scruggs, Wade Silvey, Demetria Smith, Ed Southeard, Mark Terrell, Katheryn Thompson, Iris Walker, Christopher Walton, Tira Wash, Katherine White, Carolyn Whitmire, Larry Wooten
20 years: Curt Aukerman, John Brown, Ken Cardillo, Shawn Durham, Sharon Hendrickson, Theresa Flippo, Betsy Fronk, Gary Gilreath, Darrin Hassevoort, Luke Kilburn, Michelle Kilgore, Michael Krogman, Brenda Langston, Marie Loisy, Alan Nichols, Charles Owen, Priscilla Petty, Keith Russell, Cindy Sherlin, Fernando Shipley, Samantha Smith, Sharon Smith, Alan Streetman, Johnny Woodley
25 years: Sheila Albritton, Vickie Brown, Bruce Carlisle, Heidi Cawood, Richard Clements, Loraine Couch, Brian Dinse, Cathy Hughes, Jimmy Jones, Jeff McEwen, Paul Ray, Leesa Ross, Kathy Streetmen, Erik Stubsten, Theresa Underwood-Lemons
30 years: Cathy Aslinger, Tim Belcher, John Cousino, Antoinette Dobbs-Taylor, Scott Douglass, Don Hixson, Susan Joseph, Mary Knaff, Pam Lee, Anita Polk-Conley, Betty Proctor, Sandy Rutter, Sonja Sanders, Vivian Sands, Lynda Timmons
35 years: Jim Barrott, Julie Bennett, Ray Bertani, Bill Shifflett
40 years: Susan Merriman
In addition to years of service awards, Employee Excellence Award winners were recognized and presented a check for $750 by Chattanooga State Foundation board president, Dr. Edna Varner. Winners included Michele McCarthy, Janaria McIntosh, Joanna Long, Michael Rhea, Silang Sam, and Marsha Barker.
Also recognized were 2021-2022 Faculty Fellow Dr. Angie Wood, Maxine Smith Fellow Dr. Quincy Jenkins, and Council Presidents Dr. Karen Eastman, Jade Pierce, and Tabitha Banks.
The Chatty Award, the event's final award for the day, was presented to Dr. Ed Nichols by President Ashford. This award recognizes an employee who most embodies Chattanooga State culture and lives and breathes its values on a daily basis. The recipient of the award enhances the work environment simply by being themselves. Nominated by a fellow colleague, Dr. Nichols is known to be a genuine person who interacts well with people from all over campus no matter who they are or what their title might be, maintains a positive attitude, possesses a strong work ethic, and supports others in their work.