TCAT Graduate Wins National Award
November 9, 2017 | Nancy Patterson | College Advancement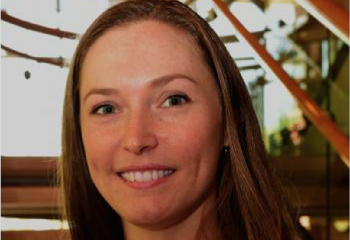 Story by Hannah Baker
Sara Wilson, a recent Chattanooga State Tennessee College of Applied Technology (TCAT) graduate was named the American Technical Education Association (ATEA) National Outstanding Technical Student Award winner of 2017. ATEA is a premier association for the post-secondary technical educator with an emphasis on professional development. The recipient of this prestigious award must be a full-time student in a post-secondary technical education program of study. The student must be strong academically and show potential in his/her chosen technical field. A nominee must be a student at a school with active institutional membership in ATEA.
Sara is currently employed as an electrician at ATN Hoelzel, a German automation equipment company that manufactures glazing cells that aid robots in applying adhesive to windshields. She learned she was getting the award just two weeks into her new job.
"I was incredibly honored when I found out that I was receiving this award," stated Sara. "It came at a time when I was feeling a little lost and overwhelmed at work wondering if I had made the right career decision. When my instructor emailed me the news about the award it was a real confidence boost because it helped me overcome my doubts and fears. It reminded me of how much I had changed during my time at TCAT. I realized then that it was going to take more time and more work to push myself to achieve as a professional. I started out not knowing anything and grew into a leader and achiever. Also while at school, I won a national gold medal and became the president of the local SkillsUSA chapter. Now, I am the recipient of this incredible ATEA honor."
Sara's instructor for Industrial Electricity, Richard Claburn, now retired, was instrumental in her success as a Chattanooga State TCAT student. He was the one that recognized the potential in her that she never saw in herself by patiently giving her thorough answers to her constant bombardment of questions. By doing so, this helped her in gaining the fundamentals and next level understanding that she craved. He was also the one that nominated her for the Outstanding TCAT Student of the Year in her first semester.  Her friend Celeste Sneed also played a significant role while she was in the TCAT electrical program. "We were the only two females in the program and we teamed up from the beginning," said Sara. "The electrical field is traditionally male dominated and we were both driven to prove that women are just as capable of working in this industry." Both Sara and Celeste pushed and supported each other to work harder through that daunting year. Sara graduated from the Industrial Electricity program in 2016 as well as from the Industrial Maintenance/ Mechatronics program in 2017.
Being a TCAT student gave Sara the fundamental understanding that she needed to go work in her newly chosen field in today's competitive job market. "I am holding my own working with guys that have been in the industry for years. Sometimes I have to figure out why something isn't working so my education helps me work through a problem logically and fix it," said Sara.
Sara is a recipient of the TN Reconnect Grant. "I had toyed with the idea of going back to school, but I never had the nerve to actually make such a big change in my life," said Sara.
When Governor Haslam established the Drive to 55 in 2013, the sole purpose was to increase the number of Tennesseans with a college degree or certificate to 55 percent by the year 2025. TN Reconnect Act, funded through a $10-million-dollar lottery allotment once it is fully executed, is an extension of the Drive to 55. This grant gives adults age 24 and above a chance to attend community college, tuition–free, at no cost to taxpayers. There are some basic requirements that a perspective student must meet to be eligible. For example, the student must not already have an associate or bachelor's degree, must be a Tennessee resident for at least one year and must participate in an advising program. Upon acceptance, the student can receive the last–dollar scholarship that will pay the remaining tuition balance once any other financial aid has been applied. In order to keep the scholarship, they must be continually enrolled in credit or certificate classes and maintain a 2.0 GPA. The TN Reconnect Act has helped many students like Sara make the process of returning to school easier.
For older students that are looking to return to school to finish their degree, Sara gives encouraging advice. "Do it! It is scary to put yourself out there. It's hard to get out of your comfort zone, but the reward is definitely worth it. Take a chance and invest in yourself. The Reconnect grant was the catalyst that brought me back to school. Right now, I can't imagine where I would be if I hadn't made that leap. It is one of the best decisions I have ever made," said Sara.
For more information on programs in the Tennessee College of Applied Technology, call 423-697-4433 or visit www.chattanoogastate.edu/tcat.