October 12, 2016 | Nancy Patterson | College Advancement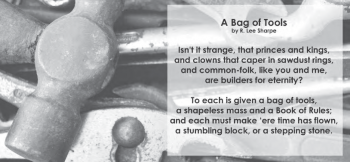 We are saddened to share the passing of Leonard Fant, a longtime Chattanooga State Foundation Board member and the co-creator of our annual Dinner of Firsts Scholarship benefit. Leonard passed away on Thursday, October 6, 2016.
The 2014 Dinner of Firsts honoree, Leonard was roasted by his friend and singer/songwriter James Rogers with an original song entitled "Give it up for Leonard Fant!" We hope you enjoy this one-of-a-kind song honoring our one-of-a-kind friend:

Leonard's contagious enthusiasm and positivity will be greatly missed. Read more about our Leonard here and here.
Featured above: This is Leonard Fant's favorite poem written by R. Lee Sharpe above.