New Alumni Board at Chattanooga State
July 20, 2016 | Nancy Patterson | College Advancement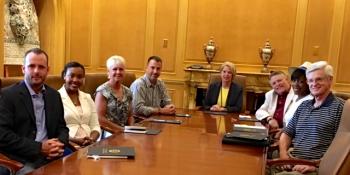 Dr. Flora Tydings welcomed the new Alumni Board members to campus and stated how grateful she was for their service:
"You are making our dream of an Alumni Board a reality," Tydings said.
We are so pleased to introduce you to our new Chattanooga State Alumni Board members: photo above (l-r): Dr. Jared Bigham, Morgan Smith, Sherri Shackleford, Dennis Tumlin, Dr. Flora Tydings, Jerry Wagner, Tabatha Armour and Gary Ainscough. Missing from the photo are: Julie Davis, Pete Pitts and Demetria Ware.
Alumni activities are in the works for this fall. Ensure you get invited by completing the easy online Alumni Form today!
Interested in learning more about our new Alumni Board, please contact fellow alum Julie Davis, 423-510-8263 or email: alumni@chattanoogastate.edu.